Cal OES Leads Mission to Rebuild Historic Gold Rush-Era Town
SACRAMENTO – Eight months after the Dixie Fire ripped through the Northern California mountain town of Greenville, leveling most of its historic downtown and leaving blocks of homes in ashes, the rebuilding, repairing, and rehousing of this close-knit community continues.
The California Governor's Office of Emergency Services (Cal OES) has planned and executed an unprecedented wildfire recovery mission, not only removing wildfire debris from residential and commercial properties, but also assisting local partners in regaining services that were lost during the historic blaze.
2021 Greenville Wildfire Debris Removal Update
State crews have now cleared nearly all the properties in Greenville, whose owners enrolled in California's Consolidated Debris Removal Program.
"We are proud to say that close to 100 percent of Greenville properties that signed up for the state's debris removal program after last year's Dixie Fire are now steps closer to rebuilding their lives," said Cal OES Deputy Director of Recovery Operations Ryan Buras. "This is all due to the collaboration and dedication of our local, state and federal partners."
As of April 11, 2022, crews have removed burned metal, concrete, ash and contaminated soil from 377 properties. The 377 cleared properties represent 95 percent of the 397 properties Greenville participating in the full debris removal program. Crews have also finished removing debris from key community anchors, such as the Greenville public library and post office.  Post-debris removal steps, such as soil testing, hazard tree removal, and erosion control continue across the community.
The Cal OES-led debris removal operation in Greenville is one of the fastest operations to date. Crews removed over 96,000 tons of debris, which accounted for 8,000 truck trips between Greenville and the disposal/recycling facilities – or 1,414,000 road miles.
Property owners can track progress on the Debris Operations Dashboard for the 2021 statewide wildfires. The dashboard is updated every hour and provides users with the ability to search by county or address.
Learn more here.
Cal OES Supports Fire Department in Greenville
Cal OES deployed a new fire engine to the Indian Valley Fire and Rescue Department, which serves Greenville, following the complete loss of its building and equipment due to the Dixie Fire.
The Cal OES Type 1 fire engine provides Greenville's Indian Valley Fire Department with a fully equipped engine to continue their efforts in fighting fires and keeping their community safe. The Indian Valley Fire Department consists of a fire hall in Greenville, Taylorsville, North Arm, and Genesee.
"This fire brought tragedy not only to the fire department but to their whole community. Cal OES has at least been able to get their fire department this engine, which allows them to continue to serve their community with fire and emergency services," said Cal OES Fire and Rescue Chief Brian Marshall.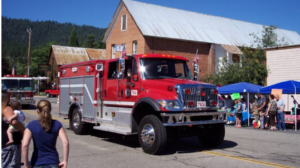 This partnership is made possible by the California Fire and Rescue Mutual Aid System, which provides local government fire agencies with fire apparatus to maintain surge capacity during day-to-day duties and major events/emergencies.
In addition, Cal OES helped secure a temporary fire station for the Indian Valley Fire and Rescue Department, which holds four engines and can ensure the town has local emergency services when needed.
Learn more here.
Watch a video on the project here.
Listen to the All Hazards Podcast with Indian Valley Fire Department Chief Bob Orange here.
Cal OES Provides Substation for Plumas County Sheriff's Department
Cal OES also provided a temporary substation for the Plumas County Sheriff's Department, which is collocated with the fire station.  This dual-purpose facility has been instrumental in ensuring consistent public safety service in Greenville.
"The efforts put forward by the California Governor's Office of Emergency Services staff has been nothing short of phenomenal," said Plumas County Sheriff Todd Johns. "The continued support they have offered the county and, more importantly, the communities that have suffered during this tragic event could not be more appreciated."
Plumas Charter School Reopening
Cal OES worked with the California Department of Education, the California Department of General Services, Plumas County, and other local partners to secure portable classrooms so students could return to in-person instruction at Plumas Charter School in Taylorsville.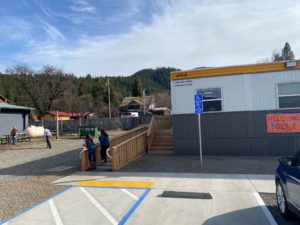 Students now have a new school location in Taylorsville, which was highlighted at a recent Open House held on March 18, 2022.  The building hosts three classrooms, two bathrooms, and office space, comparable to the previous school in Greenville.
"When the Dixie Fire took Greenville, we were all in shock and unsure how to move anything forward," said Taletha Washburn, Executive Director of Plumas Charter School. "Staff and students lost homes, lost their neighborhood, lost everything. The PCS family is my family and I felt this so very deeply."
Learn more here.
Greenville Temporary Housing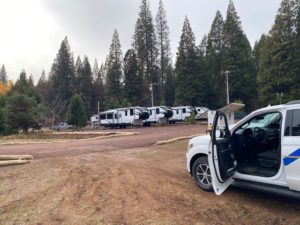 Following the Dixie Fire, Cal OES purchased a total of 14 travel trailers to serve as temporary housing for displaced Greenville families. Eligible residents were able to officially move in on November 10, 2021.
After over four months of providing temporary housing for a total of 17 Greenville households, Cal OES transferred ownership and operation of the travel trailers to Plumas County on March 31, 2022.
Learn more here.
The Dixie Fire
In the evening of August 4, 2021, this rural settlement of about 1,000 people found itself in the path of California's largest single wildfire. Before it grew to nearly one million acres and became the first known blaze to crest the Sierra Nevada, the Dixie Fire destroyed Greenville in about 30 minutes, wiping away more than a century of history and displacing hundreds of residents.
Learn more about the recovery process after a wildfire here.
###