Nearly four months after the start of the Dixie Fire in northern California, temporary housing is available for people who lost their homes in Plumas County (DR-4610).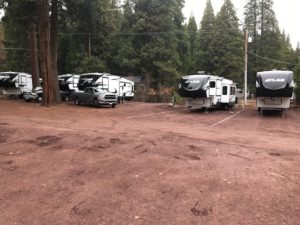 The California Governor's Office of Emergency Services (Cal OES) is working closely with the Federal Emergency Management Agency (FEMA) to address and provide housing to 2021 wildfire survivors.
"In addition to acknowledging the struggle for those who are currently experiencing these very challenging circumstances right now, the state in collaboration with local and federal partners hope to provide assurance to those who have lost their homes due to the wildfires," said Cal OES Deputy Director Ryan Buras. "We are here and willing to do whatever we can to alleviate some of the stress of post-disaster recovery."
Through a county-led process, 14 trailers have been setup in the town of Greenville to shelter 14 households until March 2022. "Having a fully operational temporary housing community established here will not only provide those who have been affected by this disaster a safe place to shelter away from the elements, but it will also provide them with a sense of hope as they continue on their road to recovery," said Deputy Director Buras.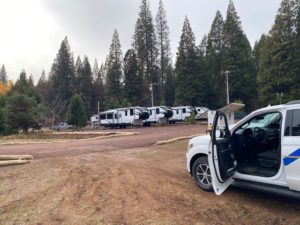 The Dixie Fire burned through the town of Greenville on August 4. Most structures in Greenville were destroyed, including much of the downtown area and nearby homes.
"The County recognizes and appreciates the expedited response and sincere support of the state in providing housing for our residents that suffered significant losses from the Dixie Fire," said Plumas County Administrator Gabriel Hydrick. "We know that for the fire victims recovery can never be soon enough, but the public should know that CalOES went above and beyond and Director Ghilarducci, Deputy Director Buras, and Assistant Director Owen and their entire team delivered on their word to help the County recover and we are grateful."
Federal assistance may be available for individuals affected by the Dixie Fire. Assistance can include grants for temporary housing and home repairs, low-cost loans to cover uninsured personal property losses, and other programs to help individuals and business owners recover from the effects of the disaster.
Survivors should contact their insurance carriers first before registering with FEMA.
Californians can apply for FEMA assistance three ways:
Visit gov
Download the FEMA App
Call the FEMA Helpline at (800) 621-3362 (TTY (800) 462-7585)
For those who are interested in learning more about the recovery process after a wildfire, please visit: https://wildfirerecovery.caloes.ca.gov/
About the Direct Housing Program
The Direct Housing Program provides temporary housing in the form of recreational vehicles (RVs), Manufactured Housing Units (MHUs) and Multi-family Lease and Repair and Direct Lease.
Eligibility is based on the extent of damage to the survivor's house, whether insurance to cover damages is available and other factors.
Installing each unit involves a site inspection, local permits and utility hookups. Since installations, like other construction projects, are subject to delays due to weather problems and coordination issues, the process can take time.
Additional Responses from Plumas County Leaders
"I would like to thank OES and our federal and local folks for the amazing job they've done in setting up temporary housing for 14 of our families. That being said there continues to be a need for more housing going forward locally.  I will continue to push for more housing units through FEMA and other resources to keep our community members local."
Kevin Goss
Plumas County Supervisor, District 2
"The efforts put forward by Office of Emergency Services staff under the direction of Director Ghilarducci, Deputy Director Buras, and Assistant Director Owen has been nothing short of phenomenal. The continued support they have offered the county, and more importantly, the communities that have suffered during this tragic event couldn't be more appreciated."
Todd Johns
Plumas County Sheriff