Seven months after the Dixie Fire ripped through Plumas County, including Greenville, the rebuilding of its charter school is shining a light in a town on the path to recovery.
The California Governor's Office of Emergency Services (Cal OES) worked with the California Department of Education, the Department of General Services, Plumas County and other local partners to secure portable classrooms so students could return to in-person instruction at Plumas Charter School in Taylorsville.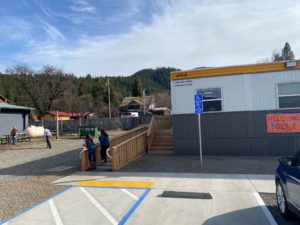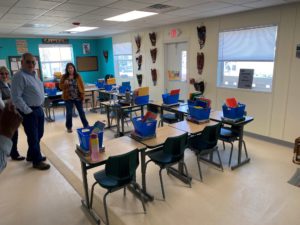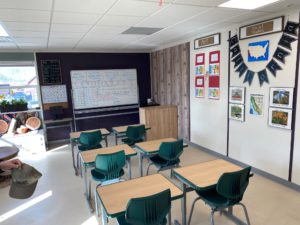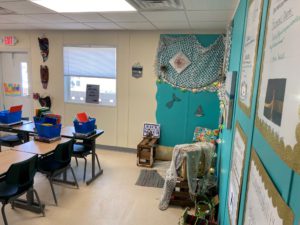 In the evening of August 4, 2021, the town of Greenville of about 1,000 people found itself in the path of California's largest single wildfire. Before it grew to nearly one million acres and became the first known blaze to crest the Sierra Nevada, the Dixie Fire destroyed Greenville in about 30 minutes, wiping away more than a century of history and displacing hundreds of residents. Plumas Charter School's Greenville Learning Center, which served about 50 students, was among those structures destroyed overnight.
"When the Dixie Fire took Greenville, we were all in shock and unsure how to move anything forward," said Taletha Washburn, Executive Director of Plumas Charter School. "Staff and students lost homes, lost their neighborhood, lost everything. The PCS family is my family and I felt this so very deeply."
Students now have a new school location in Taylorsville, which was highlighted at a recent Open House held on March 18, 2022.  The building hosts three classrooms, two bathrooms and an office space, comparable to the previous school in Greenville.
"We are proud of the progress the Plumas County community has made in recent months. Our hope is that families can begin to regain a sense of normalcy and recover from the devastation the Dixie Fire left behind," said Eli Owen, Assistant Director, Recovery Operations at Cal OES.
Cal OES has planned and executed an unprecedented wildfire recovery mission, not only removing wildfire debris from residential and commercial properties, but also assisting local partners in regaining services that were lost during the blaze.
2021 Plumas County Wildfire Debris Removal Update
The state has cleared eligible wildfire debris from 75 percent of the properties in Plumas County, whose owners enrolled in California's Consolidated Debris Removal Program after the 2021fires.
To date, crews have removed burned metal, concrete, ash and contaminated soil from 488 properties. The 488 cleared properties represent 75 percent of the 654 properties in Plumas County participating in the full debris removal program. Another 160 properties are participating in the hazardous trees only element of the program.
Property owners can track progress on the Debris Operations Dashboard for the 2021 statewide wildfires. The dashboard is updated every hour and provides users with the ability to search by county or address.
*Data as of March 21, 2022