Governor Newsom's Listos California campaign collaborates with iTEMA to engage Tribal communities

Announcement recognizes 53rd Annual California Native American Day + September's National Disaster Preparedness Month
SACRAMENTO, Calif. (September 25, 2020) – Governor Gavin Newsom's Listos California emergency preparedness campaign, an effort anchored at the Governor's Office of Emergency Services (Cal OES), has partnered with the Tribal Emergency Management Association (iTEMA) to prepare California's communities for wildfire, earthquake and other disasters.
iTEMA, with a grant totaling $1.1 million, will focus on the specific needs of California's Tribal nations with a program designed to meet communities where they are and to deliver accessible resources and information. The impacts of COVID-19 on Tribal communities highlights the importance of preparedness and the need to take immediate action to save lives.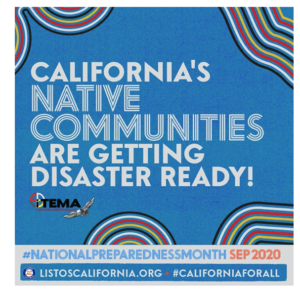 According to recent studies conducted by the Center for Disease Control (CDC), throughout the United States, American Indians and Alaska Natives are at higher risk for severe COVID-19 outcomes. Contributing factors point to racial inequity and historical trauma that continue to increase disparities in health and other socio-economic factors. Elevated reliance on shared transportation, poverty, limited access to running water, household size including multigenerational households, and increased incidents of pre-existing individual health conditions are additional factors the contribute to community transmission and poor patient outcomes.
"Without question, disasters are the great equalizer. It does not matter who you are, your race, gender, ethnicity, or socio-economic status, when disaster strikes, we are all impacted," said Jake Heflin, President/CEO of iTEMA, and an enrolled member of the Osage and Cherokee Nations. "The devastation does not discriminate, and Tribes are vulnerable. Recovery can be slow. However, resiliency can be significantly enhanced by preparedness and access to resources."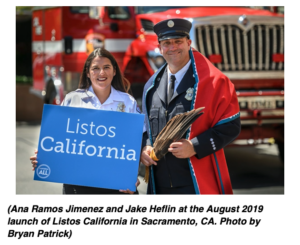 Statewide and regional engagement programs are being implemented now by iTEMA with a goal to reach 22,000 community members through trainings and tailored communication outreach strategies designed to overcome the challenge of in-person activities because of the COVID-19 pandemic. To ensure effective disaster preparedness support, these grants will also enable iTEMA to increase the capacity of current CERT and Listos programs, as well as to create new programs in Tribal communities.
"Native people throughout our country are among the most resilient people in the world. We are still here and continue to preserve or way of life, our culture, and our traditions," said Margie Mejia, Tribal Chairperson, Lytton Band of Pomo Indians. "We know history will repeat itself. Stories told to us by our ancestors tell us. Our world continues to change, and we must be prepared."
iTEMA will work statewide, with targeted support in Shasta and Tulare counties, based on the original design of how Listos California grants were awarded in 2019. The association applied for the grant funding and was awarded last year. iTEMA will kick off its work during September's annual National Disaster Preparedness Month and continue through the end of the Listos California campaign, which is December 2020.
Established in 2013, iTEMA enhances efforts to prepare for, protect against, respond to, recover from, as well as mitigate against all hazards that threaten tribal communities across California. The association is charged with providing communities with education, trainings and disaster preparedness activities with an approach that advances cooperation and equality for the whole community. This is achieved while also maintaining a thorough understanding of the specific nuisances associated with Tribal sovereignty, self-governance and cultural awareness.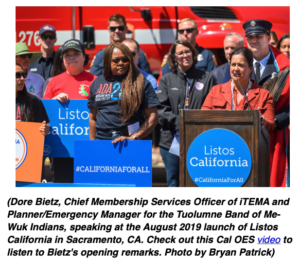 "iTEMA is an essential partner for California to build resiliency because they offer a perfect combination of authentic connection with California's Tribal communities and deep experience in disaster preparedness," said Listos California co-chairs Karen Baker and Justin Knighten. "iTEMA is best positioned to lead this work with the full support of a campaign born from the vision of Gov. Newsom and state lawmakers to reimage disaster preparedness to better engage our diverse and vulnerable Californians."
This work expands what Listos California and its statewide networks of partners have achieved to date, by investing resources and providing culturally relevant resources and engagement strategies to prepare Tribal communities. Governor Newsom and state lawmakers together invested $50 million through urgency legislation (AB 72) to establish the emergency preparedness campaign.