Even as wildfires continue to burn throughout the state, local, state and federal officials are coordinating to provide resources to affected Californians. The California Governor's Office of Emergency Services (Cal OES) has put together the below available information for wildfire survivors.
The White House approved California's request for assistance for a Major Disaster Declaration for the Dixie and River Fires in Lassen, Nevada, Placer and Plumas counties and approved the state's request for an Emergency Disaster Declaration for the Caldor Fire in El Dorado, Amador, Alpine and Placer counties, which opens additional resources and support for California.
Please visit wildfirerecovery.caloes.ca.gov for more information, incident-specific updates and financial assistance available.
FEDERAL DISASTER DECLARATION FOR DIXIE AND RIVER FIRES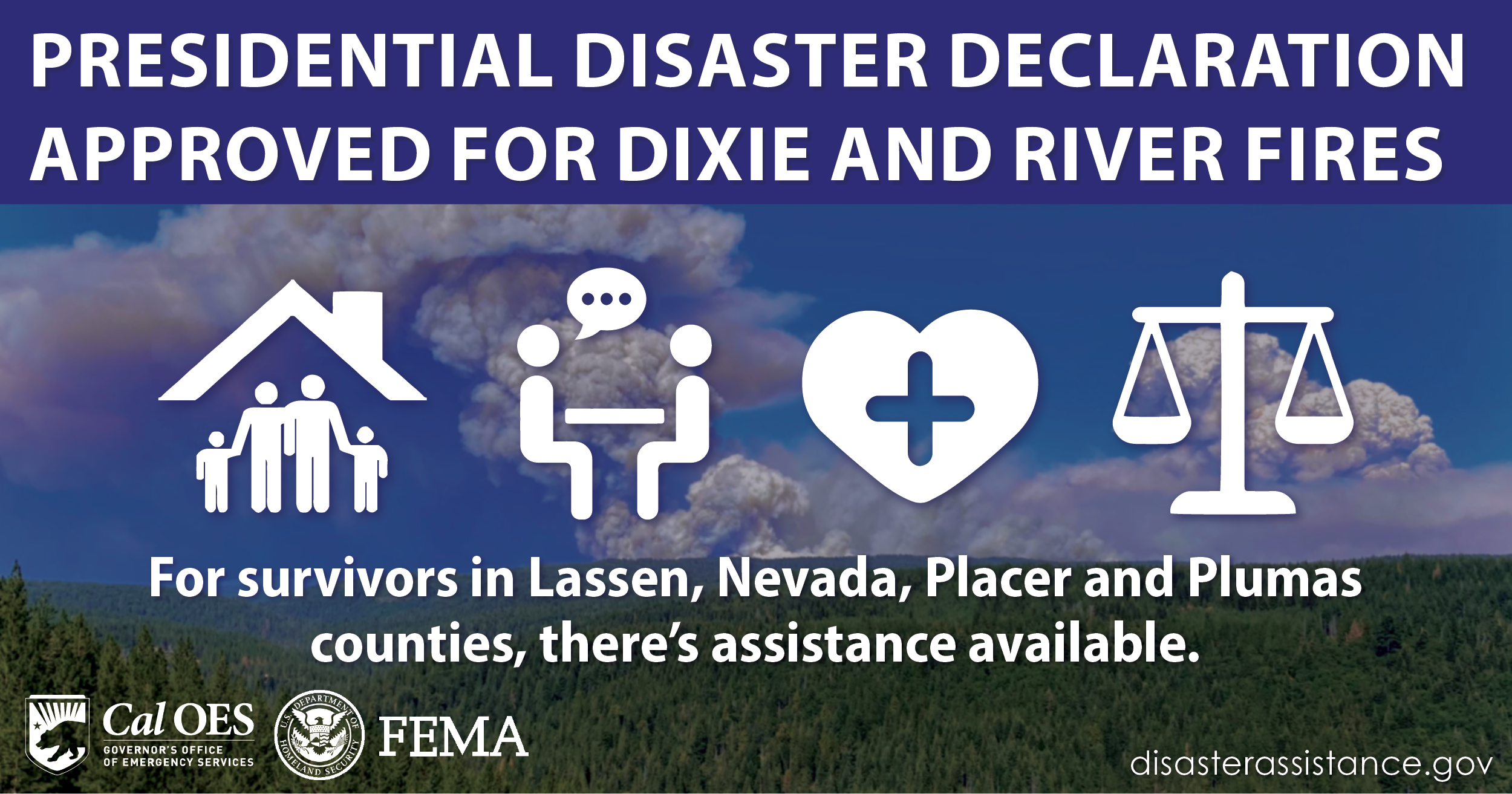 For survivors in Lassen, Nevada, Placer and Plumas counties, there's federal financial assistance available for the Dixie and River fires. You can apply for eligibility for programs and support that includes housing assistance, counseling, medical services and legal services.
Individuals and business owners who sustained losses in the designated areas can begin applying for assistance by registering online at www.DisasterAssistance.gov or by calling 1-800-621-3362 or 1-800-462-7585 TTY.
Learn more here.
DISASTER UNEMPLOYMENT ASSISTANCE FOR DIXIE AND RIVER FIRES
Californians in Lassen, Nevada, Placer, and Plumas counties who have been impacted by wildfires that started in July and August 2021 can now file for federal Disaster Unemployment Assistance. The California Employment Development Department administers these benefits, which are available to workers, business owners, and self-employed individuals who lost their jobs or businesses, or had their work hours reduced due to the ongoing wildfires.
Learn more here.
U.S. SMALL BUSINESS ADMINISTRATION FOR BECKWOURTH COMPLEX, TAMARACK, DIXIE AND RIVER FIRES
If you are a survivor of the Beckwourth Complex, Tamarack Fire, Dixie Fire or River Fire, during the recovery process, you can apply for SBA disaster assistance if needed.
Check disasterloan.sba.gov to confirm if SBA has issued a disaster declaration for your area. SBA resource partners such as SCORE and SBDCs can help you apply for disaster loans and can advise you on other aspects of the recovery process as you get your business back up and running.
For more information about SBA disaster assistance, visit sba.gov/disaster.
EMERGENCY DISASTER DECLARATION FOR CALDOR FIRE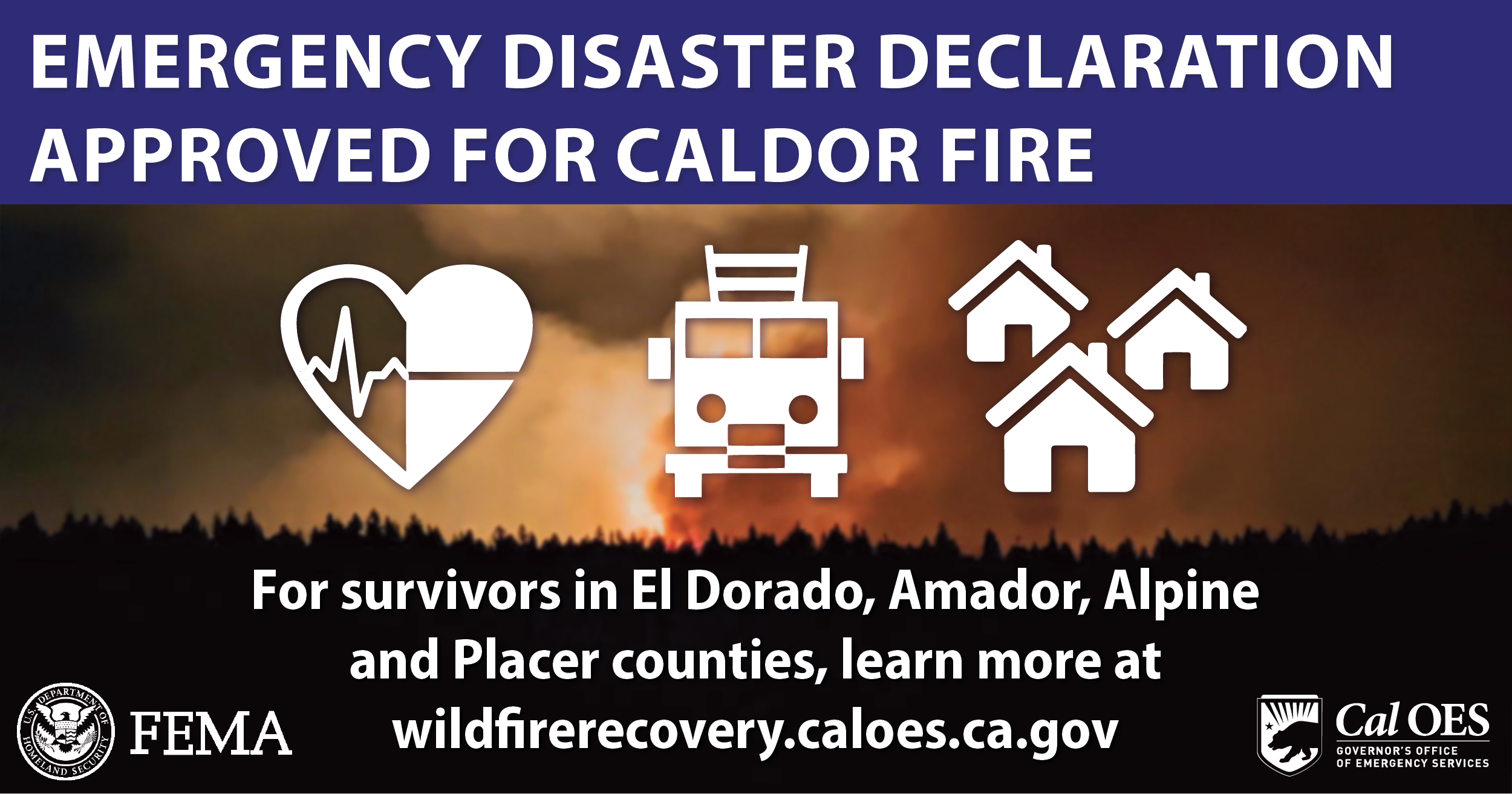 Specifically, for El Dorado, Amador, Alpine and Placer counties affected by the Caldor Fire, this federal support supplements state, local and tribal government emergency services for the protection of lives, property, public health and safety.
Learn more here.
DEBRIS REMOVAL
As California faces unprecedented wildfire activity, the state is currently working with local governments and state agencies to protect the public by removing burned debris. Known as the State's Consolidated Debris Removal Program, the two phases include:
Phase 1: clearing household hazardous waste, such as paints, cleaners, solvents, oils, batteries, pesticides, compressed cylinders and tanks, and easily identifiable asbestos from homes impacted by the following fires:
Tamarack Fire (Alpine County)
Beckwourth Fire (Lassen and Plumas Counties)
Dixie Fire (Butte, Plumas, Lassen, Tehama Counties)
Lava Fire (Siskiyou County)
Cache Fire (Lake County)
River Fire (Placer and Nevada Counties)
Phase 2: asking property owners to sign the right-of-entry form beginning in Plumas, Nevada and Placer counties. This grants government contractors access to your property to conduct the debris removal.
Learn more here.
STATE EMPLOYEE ASSISTANCE
State employees and their families may be eligible to receive state benefits if they are impacted by the fires in California.
Learn more here.
VIDEOS