Personal Protective Equipment, or PPE, gives front line health workers, public servants, teachers and so many other essential workers the ability to safely care for those stricken with COVID19 and carry on activity important to daily life. These items include, but are not limited to, N-95 masks, surgical masks, face shields, gloves, goggles, gowns and hand sanitizer. Initial procurement of PPE was challenged worldwide due to shortages in supplies, a rapidly rising demand and cost.
Despite the early hurdles Cal OES has persevered and now surpassed one billion PPE units fulfilled.
Statistics on Key PPE Item Fulfillment:
161 million N-95 Respirators
447 million Surgical Masks
230 million Gloves
Cal OES will continue to distribute N-95, surgical masks, gloves, and hand sanitizer to the Department of Education to ensure the safety of California's school staff and students.
In the graph below you can see the spike in demand, but eventually Cal OES was able to catch-up and synchronize fulfillment and requests.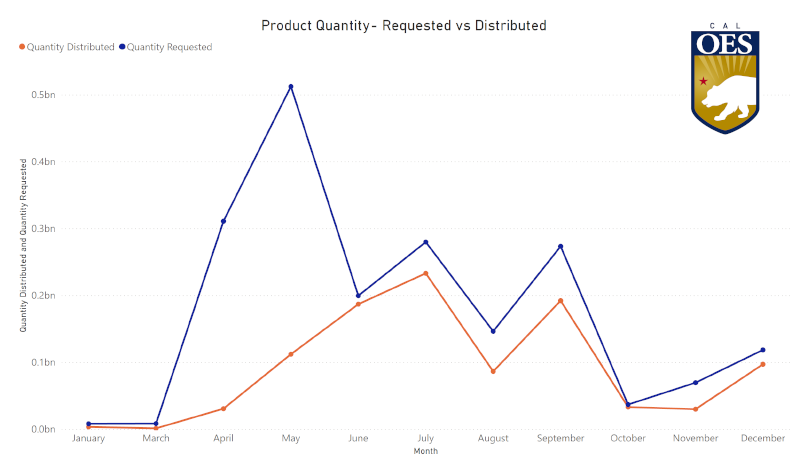 Listen
In addition to effort to increase staffing and bed space alternative care sites, the State of California has also procured hundreds of millions of pieces of Personal Protection Equipment (PPE) including N-95 respirators, procedure masks, gowns, face shields and gloves. View PPE distribution data.
Learn more about the state of California's efforts to combat COVID-19: www.covid19.ca.gov.