Written materials in Spanish and audio files in Indigenous Languages, Punjabi, Hmong and Spanish now available
In the midst of active wildfires and a global pandemic, a collaborative effort between several state agencies and community-based organizations produce and release today new resources for farmworkers on COVID-19 and disaster preparedness. Our leading community collaborators were Listos California grantee United Way of Fresno & Madera Counties and Listos California advisory council member Mixteco Indigena Community Organizing Project (MICOP).
This effort leverages the strong oral tradition prevalent among California's farmworkers with a team of trusted translators to make critical information accessible to communities that speak Mixteco and other Indigenous languages from Mexico, as well as Punjabi, Hmong and Spanish. These audio files are located on the new "Farmworker Initiative" section of the Listos California website. The collaborative effort also created custom written materials that cover specific needs and concerns for the farmworker community that are also located in this section of the website.
Additionally, farmworkers are able to access the audio recordings by texting "VOX" to "211211" where they are directed to a special page on the Listos California website that features a list of indigenous languages and the communities and regions where they are spoken. Seeing their familiar "hometown" in the list helps speakers of primarily spoken languages choose the location that opens audio files recorded in the language and dialect of that region and/or town.
The audio files and written materials can be found here.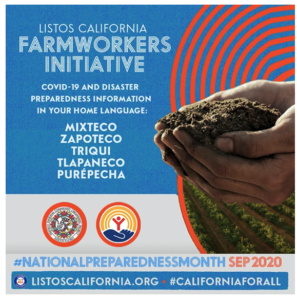 More about the new resources now available
The materials and corresponding audio files focus on mask wearing, sanitation, workers rights and how to stay safe at work, tips on what to do when farmworkers get home, how to get help for themselves and their families. On the disaster readiness side, the materials cover information such as how to sign-up for alerts, pack a go-bag, and safety tips related to preparing for wildfire and other disasters. 
They also include a Disaster Ready Card (in Englishand Spanish) that individuals fill out and keep in a wallet or other accessible place. The cards include out-of-town emergency contacts, places to meet others during/after a disaster, health and medical information and phone numbers for key state-wide resources like 211, Cal Fresh, and MediCal.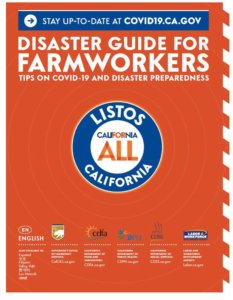 The Disaster Guide for Farmworkers can be found in Englishand Spanish. Special thanks to the state agencies that supported this initiative, including the Governor's Office of Emergency Services, California Department of Food and Agriculture, California Department of Public Health, California Department of Social Services and the Labor and Workforce Development Agency.
Mexican Consulates and the Consulate General of Guatemala adopt Listos California's five steps for disaster preparedness
The California Governor's Office of Emergency Services (Cal OES) has a long history of working in partnership with consulates of other countries given the shared goal of effective emergency management. Today, 11 of those partners have joined together to ramp up efforts and ensure new levels of resiliency among the communities they serve.
The 10 consulates of Mexico – specifically those located in Sacramento, San Francisco, San José, Fresno, Oxnard, Los Angeles, San Bernardino, Santa Ana, San Diego and Calexico – as well as the consulate general of Guatemala represent a wide range of international leaders who are often charged with providing their citizens who reside in California with timely and accurate information about their local preparedness and response efforts.
Together, these consulates issued the following letter in recognition of September's National Preparedness Month to adopt Listos California's five free and easy steps for disaster preparedness: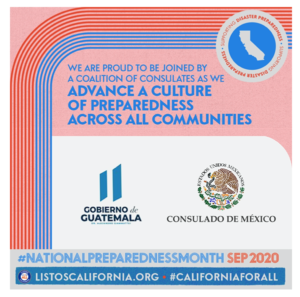 Dear California –
In light of the COVID-19 pandemic, increased wildfire and other major disasters across the state, we agree that it's urgent to welcome a new culture of disaster preparedness. We agree to serve as a partner to support this work given the communities we serve and support.
To advance this urgent priority, we collectively sign this letter to adopt Listos California's accessible and free 5 steps to prepare for disaster, which are:
1) Get alerts to know what to do.
2) Make a plan to protect your people by creating an emergency contact list and an evacuation plan.
3) Pack a go bag with things you need.
4) Build a stay box to stay safe at home for when you can't leave.
5) Help friends and neighbors get ready.
Additionally, to promote these steps we agree to host at least one activation each September during National Disaster Preparedness Month. Activations will include virtually based or safe in-person events, newsletters or other communications activities, and/or other outreach designed to educate and empower our communities and networks with the lifesaving information.
Together, we will ensure new levels of resiliency across the state as we create new opportunities to connect more people to the steps that will keep individuals, families and communities safe.
In Preparedness,
Consul Liliana Ferrer, Consulate of Mexico in Sacramento
Consul Remedios Gomez Arnau, Consulate of Mexico in San Francisco
Consul Alejandra Bologna, Consulate of Mexico in San José
Consul Adriana González Carrillo, Consulate of Mexico in Fresno
Consul Euclides Del Moral Arbona, Consulate of Mexico in Oxnard
Consul Marcela Celorio Mancera, Consulate of Mexico in Los Angeles
Consul Itzel De León Villard, Consulate of Mexico in San Bernardino
Consul Mario Cuevas Zamora, Consulate of Mexico in Santa Ana
Consul Carlos González Gutiérrez, Consulate of Mexico in San Diego
Consul Tarcisio Navarrete Montes de Oca, Consulate of Mexico in Calexico
&
Sylvia Wohlers de Meie, General Consul, Consulate General of Guatemala in San Francisco