Updates on EDD's efforts to process and pay benefits
Sacramento – According to the U.S. Department of Labor, the California Employment Development Department (EDD) processed 615,809 unemployment benefit claims and paid $4.5 billion in benefits during the week ending on May 2, 2020.
In total, since the week ending March 14, the EDD processed a total of 4.1 million claims for benefits and paid a total of $8.9 billion in benefit payments including both first benefit payments and ongoing bi-weekly benefits once workers have a claim established. Those claims include both Unemployment Insurance (UI) and the new Pandemic Unemployment Assistance (PUA) program, which launched on April 28th. PUA recipients may be self-employed, business owners, independent contractors, those who have limited work history, and those who have recently collected all of the available benefits on their regular UI claim. California marks the week ending March 14 as the start of unemployment demand related to COVID-19.
The numbers reported reflect earlier initial estimates on claims processed and benefits paid. The EDD's data analysis is reported weekly to the U.S. Department of Labor which then releases the official data each Thursday for the prior week.
EDD also released a new weekly data dashboard to illustrate the continued demand for unemployment benefits during the pandemic.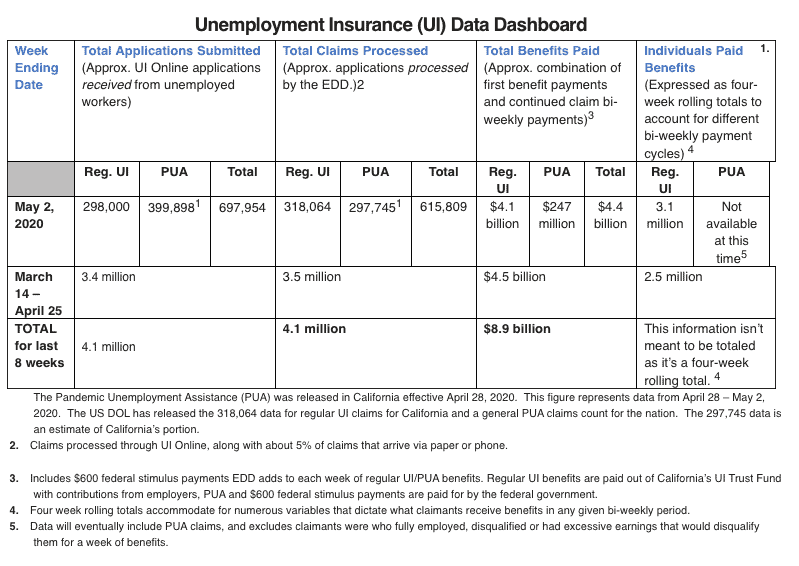 Putting the Data into Context
Over just the last seven weeks, the EDD has paid more than a third of what was paid in benefits during the highest year of demand during the last recession, which was $22.9 billion in calendar year 2010.
###