As part of the Annual Great ShakeOut, the Myshake Application will issue a test alert on October 19, 2023 at 10:19am.  Starting now through Thursday, roughly 2.8 million users of the smartphone application in California will begin receiving warnings in both English and Spanish, alerting them that a practice drill will be taking place and that it is only a test.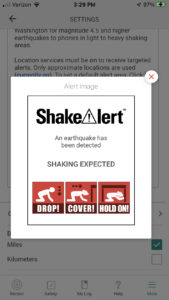 The TEST alert image will look like an alert to Drop, Cover and Hold on for a fictitious magnitude 5.0 earthquake in San Francisco. The image will have a TEST banner across it. Audio will also play alert sounds but will mention that the alert is also a test.
Those receiving the alert can join the 9.4 million participants statewide who will be joining the Great ShakeOut Drill and demonstrate the proper life-saving technique of drop, cover and hold on.  
Leading to the ShakeOut drill, Cal OES hit the road for a seven-city earthquake simulator tour around California, offering participants the opportunity to experience simulated shaking intensity up to a magnitude 7.0 earthquake, speak to subject matter experts and receive important safety information to prepare for, respond to and recover from earthquakes. Cal OES is currently conducting a tour at seven stops across California.  
Resources:  
Great California Shake Out Tour 2023 
ABOUT 
EARTHQUAKE EARLY WARNING SYSTEM  
Continuing to lead the country in emergency management and disaster preparedness, California's first-in-the-nation Earthquake Early Warning System provides advance notification before shaking occurs. With more than 2.7 million downloads, the MyShake App detects significant earthquakes quickly so alerts can notify Californians to take protective actions when seismic activity is occurring at their location.   
EARTHQUAKE WARNING CALIFORNIA PROGRAM  
Promoted through the Earthquake Warning California campaign, Cal OES is home to the California Earthquake Early Warning System. This intricate system uses the latest technology, including smartphone applications, operating system features and Wireless Emergency Alerts (WEA), to provide individuals with an earthquake warning as soon as shaking is detected by ground motion monitoring in California.