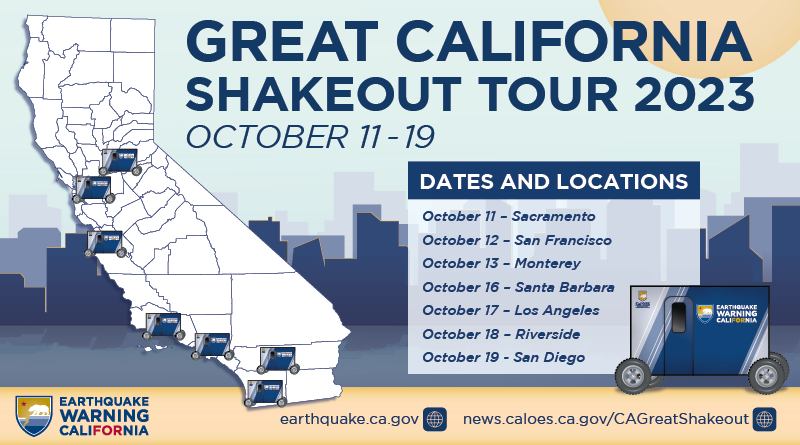 MATHER, CA – Building upon California's first-in-the-nation earthquake early warning system, the California Governor's Office of Emergency Services (Cal OES) is launching a statewide, seven-stop tour beginning this week as part of the Great California ShakeOut.
The tour will bring a shake simulator capable of replicating a 7.0 magnitude earthquake to cities across the state, where first responders will provide life-saving earthquake preparedness tips.
"California has long led the nation in innovative disaster preparedness efforts. During this year's Great ShakeOut, we want to encourage every Californian to take action to keep themselves and their families safe," said Cal OES Director Nancy Ward.
The tour will make stops in seven California counties beginning October 11 in Sacramento. Other stops include San Francisco (October 12), Monterey (October 13), Santa Barbara (October 16), Los Angeles (October 17), Riverside (October 18) and San Diego (October 19).
Then on October 19 at 10:19 a.m. – the Great California ShakeOut Day – millions of Californians will participate in an earthquake drill and practice life-saving actions like drop, cover and hold on.
Through the earthquake simulator, users will have the opportunity to experience simulated shaking intensity, similar to that caused by magnitude 7.0 earthquakes.
And remember, when shaking starts, seconds matter. Check out life-saving actions below: 
Inside: Drop, Cover and Hold on

 

In a car: Pull over, stop, set the parking brake. 

 

In bed: Turn face down, cover your head with a pillow. 

 

Outdoors: Stay away from buildings, don't go inside.

 
RESOURCES:
B-roll: Shake Trailer & Interview Sound Bite
Photos from 2022 CA Great ShakeOut
TOUR SCHEDULE: 
Wed., October 11, 2023: Sacramento | DOCO
Golden 1 Main Entrance Area
DOCO, Sacramento, CA 95814
Media arrival as early as 5 a.m.
Public hours: 8 a.m. – 1 p.m.
Thurs., October 12, 2023: San Francisco | San Francisco State University 
Between Student Services and Student Health Center
1600 Holloway Avenue, San Francisco, CA 94132
Media arrival as early as 5 a.m.
Public hours: 8 a.m. – 1 p.m.
Fri., October 13, 2023: Monterey | Monterey Conference Center  
In front of Monterey Conference Center
1 Portola Plaza, Monterey, CA 93940
Media arrival as early as 5:30 a.m.
Public hours: 8 a.m. – 1 p.m.
Mon., October 16, 2023: Santa Barbara | Old Mission 
In front of Old Mission
2201 Laguna St., Santa Barbara, CA 93105
Media arrival as early as 7 a.m.
Public hours: 8 a.m. – 1 p.m.
Tues., October 17, 2023: Los Angeles | Olvera Street 
Outside Museum of Social Justice (Los Angeles St. and N. Alameda St.)
125 Paseo de la Plaza, Los Angeles, CA 90012
Media arrival as early as 5 a.m.
Public hours: 8 a.m. – 1 p.m.
Wed., October 18, 2023: Palm Springs | Agua Caliente 
Across from Indian Canyons Golf Resort Entrance
1097 E Murray Canyon Drive, Palm Springs, CA 92264
Media arrival as early as 5:30 a.m.
Public hours: 8 a.m. – 1 p.m.
Thurs., October 19, 2023: San Diego | Cuyamaca College  
Across from Student Services Center – Parking Lot 5
900 Rancho San Diego Pkwy, El Cajon, CA 92019
Media arrival as early as 5 a.m.
Public hours: 8 a.m. – 1 p.m.
VISUALS:       
Cal OES branded Earthquake Simulator (14' H x 9'W x 36' L)
Californians on the simulator
Earthquake experts interacting with families
FOLLOW US:  
TWITTER: @Cal_OES
FACEBOOK: @CaliforniaOES
INSTAGRAM: @cal_oes
YOUTUBE: @calOES
RSVP: Media must RSVP their participation to media@caloes.ca.gov.
EARTHQUAKE EARLY WARNING SYSTEM 
Continuing to lead the country in emergency management and disaster preparedness, California's first-in-the-nation Earthquake Early Warning System provides advance notification before shaking occurs. With more than 2.7 million downloads, the MyShake App detects significant earthquakes quickly so alerts can notify Californians to take protective actions when seismic activity is occurring at their location.  
EARTHQUAKE WARNING CALIFORNIA PROGRAM 
Promoted through the Earthquake Warning California campaign, Cal OES is home to the California Earthquake Early Warning System. This intricate system uses the latest technology, including smartphone applications, operating system features and Wireless Emergency Alerts (WEA), to provide individuals with an earthquake warning as soon as shaking is detected by ground motion monitoring in California.