In preparation for significant rainfall forecasted throughout the state, the Governor's Office of Emergency Services (Cal OES) continues to work with local public safety agencies to coordinate and deploy the strategic pre-positioning of specialized fire, rescue and public safety resources and personnel in Tulare and Riverside counties.  This is part of an on-going effort by California's emergency management and public safety agencies to ensure that critical, life-saving resources are ready and immediately available for deployment in the event of a major mudslide, debris flow, flooding or other emergency caused by significant winter weather.
The following resources and personnel are either in designated positions, or will be soon, as this latest storm system moves across the region. The pre-positioned fire resources and emergency personnel listed below are a snapshot in time, highlighting resources that were in play as of the morning of Thursday, February 14, 2019.
NOTE: This list is subject to change without notice, based on conditions – changes, additions and cancellations are common as needs are continually reassessed.
Tulare County:
(1) Strike Team of Local Government Type 6 Engines (5 Engines)
(4) Type 1 OES Engines
(1) Type 3 OES Engine
(1) Type 3 Swift Water Rescue Team
(1) Type 2 Bulldozer
(1) Type 3 Incident Management Team personnel
Riverside County:
(2) Strike Teams of OES Engines from Riverside and San Diego Operational Areas (10 Type 3 Engines)
(2) Type 6 Local Government Engines
(1) Type 3 Swift Water Rescue Team
(2) Communications Dispatchers
(1) All Hazard Type 3 Incident Management Team
Orange County:
(2) Type 2 Bulldozers
(1) Helicopter
(1) Hand Crew
(1) Swift Water Rescue Team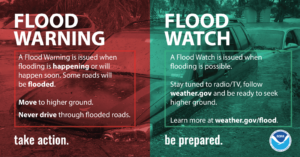 Be Prepared & Have a Plan
The public is urged to remain aware of their surrounding conditions and to avoid outdoor activities that may be dangerous during the rain event. Also, remember to have an emergency plan in place, emergency preparedness kits at home and vehicles full of fuel, sign-up for emergency alerts, listen to authorities and warnings and be prepared to evacuate if necessary. Check out the National Weather Service Safety Tips.
The California State Warning Center, Cal OES Regions and Cal OES Fire and Rescue Branch will continue evaluating conditions to be ready for further resource requests as necessary throughout the rain event.
For more from Cal OES, visit CalOES.ca.gov and follow us on Twitter @Cal_OES