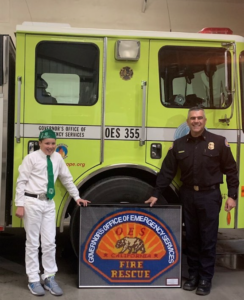 After more than 20 years in the fire service, Cal OES Fire and Rescue Assistant Chief Pete Mercado thought he'd seen it all.
That would all change the day he came face-to-face with a handcrafted replica of the Cal OES Fire and Rescue patch logo made out of 10,000 LEGO pieces. You read that correctly – 10,000 pieces.
The patch replica was a special 4-H volunteer project by 5th grader Andrew Triviso of Calexico. Inspired by his love for the fire service and fueled by creativity, Andrew and his family chose the project as a way to give back to the community. Creating a piece of art like this was no easy feat. More 50 hours of hard work went into crafting the one-of-a-kind piece.
"We are so impressed by Andrew's project which clearly took a lot of work, skill, dedication and patience," said former Cal OES Fire and Rescue Chief Kim Zagaris. "The Cal OES Fire and Rescue team thanks him for his thoughtful gift."
After it was completed, Andrew presented the piece to Assistant Chief Mercado who ensured its safe 600-mile journey from Calexico to its new home at Cal OES headquarters in Mather.