SACRAMENTO– California Governor's Office of Emergency Services Director Mark Ghilarducci today secured a Fire Management Assistance Grant (FMAG) from the Federal Emergency Management Agency (FEMA) to help ensure the availability of vital resources to suppress the Creek Fire burning in Shasta County. The FMAG also enables local, state and tribal agencies to recover eligible costs.
The fire started Sunday, June 24 in the vicinity of Clear Creek Road and American Road, west of Redding, and thus far has burned approximately 1,300 acres. Approximately 500 structures are being threatened as well as critical infrastructure within the area. Shasta County Sheriff's Office has issued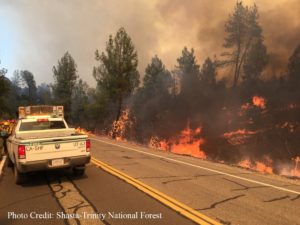 mandatory evacuations in the areas of Igo, Ono, and Happy Valley. A shelter has been established at West Valley High School, 3805 Happy Valley Road, Cottonwood, CA 96002 (map).
Cal OES Fire and Inland Region personnel are currently responding in concert with other federal, state and local agencies to address emergency management and mutual aid needs for the incident. The recent high temperature, strong north winds and low humidity have made ideal environment for dangerous fire conditions throughout the region.
The federal grant, which is provided through the President's Disaster Relief Fund on cost-share basis, will assist local, state and tribal agencies responding to the fire to apply for 75-percent reimbursement of their eligible fire suppression costs.
Additional Information: