As the COVID-19 virus continues to cause statewide impacts, California agencies are expanding efforts to address hospital bed shortages by adding capacity to existing systems. To augment surge capacity, Alternate Care Sites were stood up earlier last year in anticipation of the hospital bed shortage and many of the sites are now actively caring for patients.
The strategically placed Alternate Care Sites were designed to build capacity and enhance the ability of hospitals to withstand the surge of COVID-19 patients. The additional hospital bed availability allows health care delivery systems to provide care for patients, focus their resources on those with the most acute needs and ease strained systems.
In addition to the existing sites, Residential Alternate Care Sites are now coming online to also help ease the burden on hospitals by providing needed care and support to people recovering from COVID-19 who do not require hospital-level care but are also not yet ready to return to their previous facilities.
The Residential Alternate Care Sites will serve as a resource for California's adult and senior care facilities and the surrounding community, which care for older and/or disabled Californians who are no longer able to live in their homes.  The Residential Alternate Care Sites will provide a level of support consistent with requirements for Residential Care Facilities for the Elderly or Adult Residential Facilities, which includes supervision and assistance with the activities of daily living such as bathing and feeding and can include care by licensed nurses for individuals recovering from COVID-19.
Breakdown of the Alternate Care Sites and Residential Alternate Care Sites currently with patients (as of 1/14/21):
ARCO/Sleep Train Arena (Sacramento County): 19 patients
Porterville Developmental Center (Tulare County): 10 patients
Fairview Developmental Center (Orange County): 27 patients
Imperial Valley College (Imperial County): 16 patients
Los Angeles Residential Alternate Care Site (Los Angeles County): 4 patients
Norwalk ACS (Los Angeles County): 42 patients
Palomar Medical Center (San Diego County): 6 patients
Total in beds: 124 patients
Total beds in active status: 340
There are 1,802 beds in warm status throughout the 21 total sites throughout the state, with seven of the sites active with patients in beds.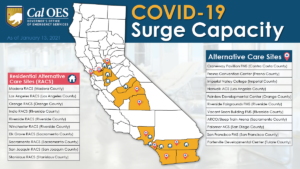 To view the public dashboard with the most up-to-date information, click here.
In addition to Alternate Care Sites, the state has 22 California Medical Stations, which are 50 bed field hospitals, in its cache that can be rapidly deployed.
Individuals interested in opportunities to help California meet urgent COVID-19 medical response needs are encouraged to visit the following sites:
Visit www.covid19.ca.gov for more information on the state's response to COVID-19 and critical steps Californians can take to stay healthy.
###