On January 15, 2022, the National Weather Service Pacific Tsunami Warning Center issued a Tsunami Advisory for the entire California coast following the large volcanic eruption near Tonga.
As the State Operations Center actively coordinated response efforts and collaborated with state and local partners on potential impacts, beaches immediately closed and coastal residents were encouraged to move to higher ground.
Although rare, tsunamis are among the most devastating disasters in the world. Being prepared before, during and after a disaster is vital in the recovery process and the resiliency of communities.
Tsunami Preparedness Week
March 21-25 is Tsunami Preparedness Week in California. Whether you live along the coast or are visiting, it's important to know the hazards and how to keep you and your family safe.
Be counted among people and organizations worldwide by registering your 2022 tsunami preparedness activities and "know your zone" by visiting www.tsunamizone.org.  There are numerous events, exercises, educational forums and more happening throughout the state. You can find out about all the various activities by visiting Tsunami events.
The National Oceanic and Atmospheric Administration's National Tsunami Warning Center offers complete information, including the current status of tsunami warnings, advisories and watches, and frequently asked questions. Additional information and resources about Tsunami Preparedness Week are available at www.tsunamizone.org.
MyShake Tsunami Feature
Launched in 2019, MyShake, which is also available in Spanish, was the first app to provide statewide earthquake early warning alerts for earthquakes with a magnitude of 4.5 or greater. The amount of advance notice received varies depending on the proximity to the epicenter.
In 2022, Governor Gavin Newsom announced new functionality within the MyShake app to better serve Californians and keep surrounding communities safe. Among those new features, tsunami safety information was added to the Safety Pages to remind people near the coast what steps they can take before, during, and after an earthquake to protect them from tsunamis.
To download MyShake and to learn more about earthquake and tsunami preparedness, visit earthquake.ca.gov.
Tsunami Alerts
A tsunami warning means a tsunami may have been generated and could be close to your area. A full evacuation is suggested.
A tsunami advisory indicates potential for strong currents or waves dangerous to those in or near the water is expected or occurring.
A tsunami watch means a tsunami has not yet been verified but could exist and may be as little as an hour away. Stay alert for more information.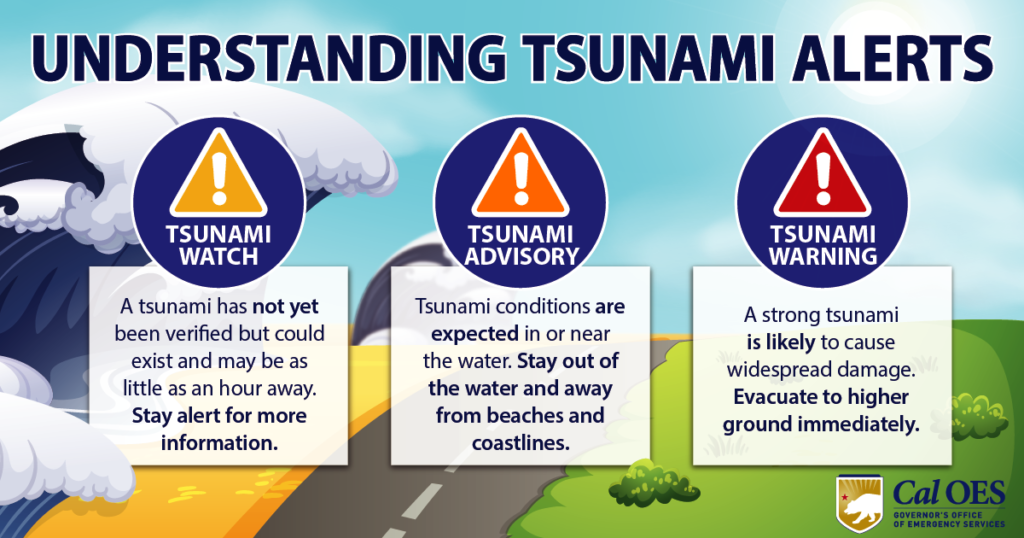 Cal OES MyHazards Tool
Learn more about the risk of tsunamis and other natural hazards. including earthquakes, floods, and wildfires, and how to reduce risks at MyHazards, a tool provided by the California Governor's Office of Emergency Services.
Tsunami Inundation Maps
California tsunami inundation maps show where areas on land can become quickly flooded from tsunami waves. These maps can be used by anyone to plan a safe evacuation route.
Preparedness
A collection of tsunami preparedness materials specific to California is listed below:
Video Resources
Understanding Tsunami Alerts:
Surviving a Tsunami:
Tsunami Generating Events: