Summer is in full swing! With warm weather upon us, we know you're eager to head outdoors. Before you hit the road, the California Governor's Office of Emergency Services (Cal OES) wants you to make safety a priority when you're recreating outdoors.
Before you head out to any body of water, remember to keep these important water safety tips in mind:
Know before you go: prior to leaving home, check the status of the park unit/waterway to find out what restrictions and guidelines are in place.
Know the water: do not enter cold, fast-running water. It can be dangerous not only to you but also for first responders.
Know your limits: swimming in open water is more difficult than in a swimming pool – people tire more quickly and can get into trouble.
Know about life jackets although life jackets are strongly recommended when recreating in or near waterways, this year's expected high runoff in rivers can be dangerous even with the use of life jackets.
Know how to supervise actively supervise children in and around open bodies of water. Do not assume that someone is watching them. Appoint a designated "water watcher," taking turns with other adults.
Here are a few potential hazards to be aware of, especially when visiting the water:
Woody Debris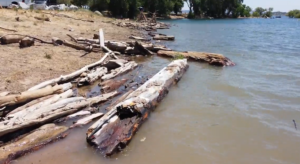 As a result of storms earlier this year, woody debris could still linger in the water and on the shorelines of rivers, lakes and bodies of water throughout the state.
"With the large influx of the storms and debris flows, we are seeing a lot more vegetative debris out in the water," said Ramzi Ibrahim, Senior Environmental Scientist with Cal OES. "That could be bushes, to entire trees that fell over from the high winds and all of the water that came in and made their way down the river and settled into our lakes."
Large woody debris can cause injury, or even drowning. When tree branches, logs or rocks compile, only water can get through, so they create a hazard for swimmers. When a person is swept into a pile of debris in the water, they can become pinned or trapped against it.
Swimmers should check the water and steer clear of any debris to ensure their safety.
Contaminants in the Water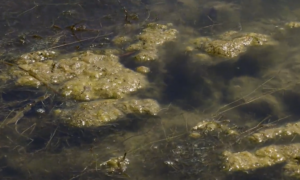 In addition, to debris below the water, there's also a likelihood of contaminants that could be in the water. Cyanobacteria, more commonly known as blue-green algae, is one of our more hidden dangers that form in lakes. The toxic algae is caused by various environmental factors, including rising climate temperatures.
Blue-green algae can produce neurotoxins that are harmful to humans and pets if ingested. Symptoms such as vomiting, diarrhea, dizziness, and other flu-like symptoms could occur within hours after coming out of the water.
The best thing to do to stay safe, is keep yourselves, children, and pets out of contaminated water.
"Basic things to look out for on the water is a light-green sheen on the water. Almost like pea soup is the best way to describe it," Ramzi said.
Although not all algae species are considered harmful, Cyanobacteria could be deadly. Check your lake's water advisories and listen to authorities.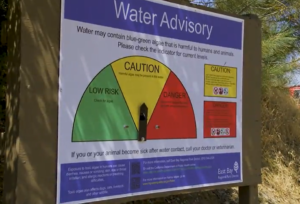 Check out the video below to learn more about water safety: