SACRAMENTO – With wildfire season underway across the state, the California Governor's Office of Emergency Services (Cal OES) is not only readying firefighting resources and supporting the state's emergency response, but also wrapping up recovery operations from last year's wildfires. Marking a significant step forward in helping wildfire survivors heal and rebuild, Cal OES announced more than 99 percent of all private properties enrolled in the state's Consolidated Debris Removal Program have been cleared of wildfire debris.
"We stand with all of the communities recovering from these destructive wildfires," said Ryan Buras, Deputy Director of the Cal OES Recovery Directorate. "Our team is committed to ensuring property owners affected by the 2021 wildfires can safely begin rebuilding their home and community."
As of August 10, 2022, crews have removed metal, concrete, ash and contaminated soil from 1,773 of the 1,775 private properties whose owners enrolled in the state's debris removal program following the 2021 fires. That's more than 430,000 tons of wildfire remnants cleaned up in communities statewide, with 67,000 tons of metal and concrete being recycled to be used in new construction and saving space in California's landfills.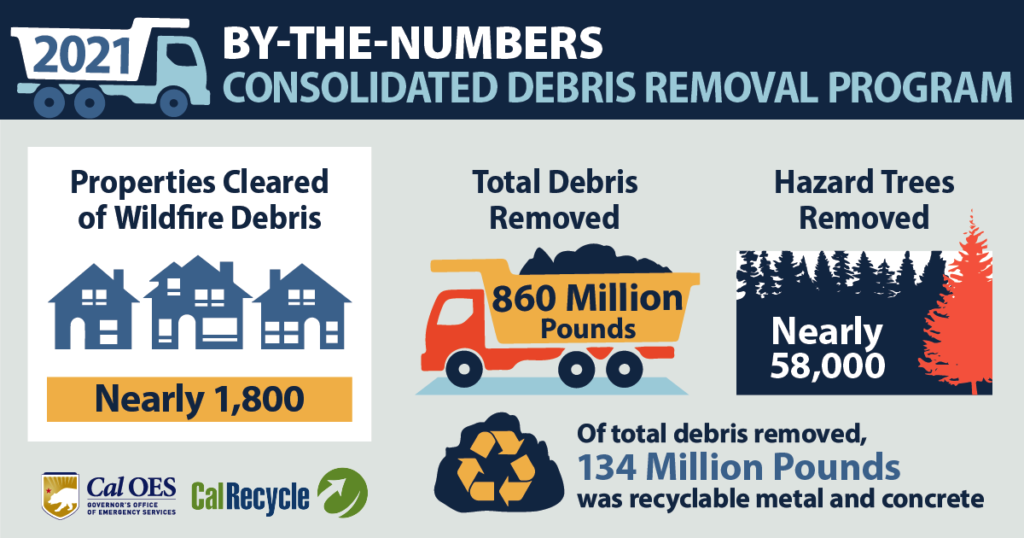 Administered by Cal OES and the California Department of Resources Recycling and Recovery (CalRecycle), the State's Consolidated Debris Removal Program works to remove eligible fire-related debris from burned properties at no cost to property owners.
"Removing wildfire debris thoroughly and efficiently gives survivors a path to rebuild," said Rachel Machi Wagoner, Director of CalRecycle. "We thank our state, local, and federal partners for their shared commitment to assisting the communities devastated by wildfires."
Debris removal is one of the steps in making properties safe for Californians to return to following a fire. Another step of this program is identifying and removing "hazard trees" that were damaged during the fire and now pose a danger to the community. To date, of the 58,279 trees identified as a risk to locals, the state has already removed 57,752 trees. Each tree was carefully assessed by an International Society of Arboriculture Certified Arborist. As Cal OES and CalRecycle reach the end of 2021 wildfire recovery operations, the removal of hazard trees ensures a safe environment for the community to rebuild on public and private properties.
Once a property is cleared of debris, contaminated soil, and hazard trees, it receives a final sign-off from state officials before property owners can start the rebuilding process.
California saw a historic year for wildfires in 2021. In total, 15 counties were affected by last year's wildfires, stretching from Kern County in Central California to Siskiyou County situated just below the Oregon border. In particular, Cal OES along with its state and local partners helped the Plumas County town of Greenville recover after the Dixie Fire nearly destroyed the entire community. From removing wildfire debris and rebuilding first responder capacity in the area, to getting local children back in the classroom, Cal OES provided the resources to get Greenville on the road to recovery.
In June 2022, Cal OES finally received approval from the federal government to begin debris removal of cabins located on federal land in El Dorado County. This work is underway and expected to continue into the fall.
To learn more about Cal OES' work during the 2021 wildfire season and the efforts made to help Californians recover, click here.
Visual Storytelling:
###