Ahead of peak fire season, the California Governor's Office of Emergency Services (Cal OES) this week announced the transfer of five new Type VI engines to local fire jurisdictions as part of the California Fire and Rescue Mutual Aid System.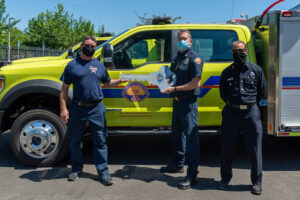 The Type VI engines were transferred to the following Region II fire agencies:
San Mateo Consolidated Fire Department (2)
South San Francisco Fire Department
Central County Fire Department
San Bruno Fire Department
With this delivery, Cal OES has a fleet of 114 Type I All Hazard Fire Engines, 67 Type III Wildland Fire Engines, and 84 Type VI Fast Attack Fire Engines in-service across California.
This week's transfer is part of a substantial fire engine order that strategically places engines with local fire agencies throughout California to combat wildfires and respond to other disasters and emergencies.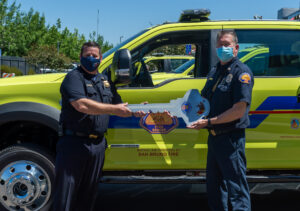 "With unprecedented drought, the wildfire season is anticipated to be larger and more destructive," said Cal OES Fire and Rescue Chief Brian Marshall. "These additional fire engines in the California Fire and Rescue Mutual Aid System give additional surge capacity to help firefighters control wildfires when they are small. These fire engines will often be prepositioned in areas that have extremely high fire potential due to severe weather."
The Cal OES Fire and Rescue Division coordinates the California Fire and Rescue Mutual Aid System which moves government resources across the state in support of all-risk emergency response on behalf of local, state, and federal government fire organizations. Cal OES assigns various fire apparatus to local government fire agencies to maintain surge capacity during day-to-day duties and major events/emergencies.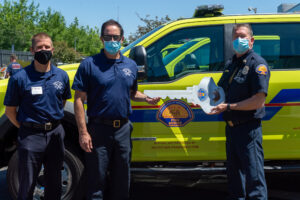 Through a contractual agreement between Cal OES and the local government fire agencies, the state permits the use of the fire engines for mutual aid responses, local multiple alarm fires, temporary replacement for out of service engines, training, and other local, state, and federal needs. In return, the assignee is required to dispatch the engine with the required personnel to any emergency.
In 2020, 131 Cal OES engines and 317 local government engines were moved to regions to support firefighting efforts and all-risk events.
Already in 2021, over 50 Cal OES engines and 40 local government engines have been moved to regions in advance of the wildfire season and all-risk events.
Each year, Cal OES purchases engines for local fire jurisdictions statewide. In the last two fiscal years, Cal OES delivered 48 expansion engines and replaced 25 engines to over 60 fire jurisdictions across the state. Additional expansion engines will be delivered in the next several months.
Cal OES filled more than 12,500 requests for local government fire engine support in 2020 and more than 6,000 appeals for staff support.
###