SACRAMENTO – Even as debris removal on this year's fires is about to get underway, California Governor's Office of Emergency Services (Cal OES) and California Department of Resources Recycling and Recovery (CalRecycle) have reached a huge milestone in cleaning wildfire debris from last year's record fire season.
As reported on the State's Debris Removal Dashboard, 3,831 properties participating in Phase II of California's Consolidated Debris Removal Program have been cleared of 2020 structural debris.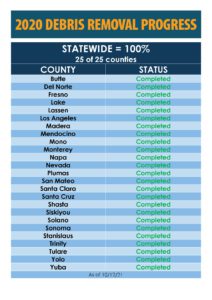 Crews have cleared more than 1.25 million tons — or over 2.5 billion pounds — of ash, debris, metal, concrete, and contaminated soil from the nearly 4,000 properties that took part in California's Consolidated Debris Removal Program. That's equivalent to nearly 42,000 fire engines.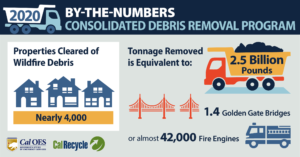 "We are proud that 100 percent of properties that signed up for the state's Consolidated Debris Removal Program after last year's wildfires are now steps closer to rebuilding their lives thanks to the collaboration and dedication of our local, state and federal partners," said Ryan Buras, Cal OES Deputy Director of Recovery. "
Although some properties need soil testing, erosion control, or hazard tree removal to ensure the parcels are safe for families to rebuild, debris has been removed in 100 percent or 3,831 properties enrolled in the full program element of the state program. Of those, 3,383 have cleared the entire program and can begin or have already begun the rebuilding process.
In 2020, more than 8,000 climate-induced wildfires burned 4.2 million acres of California, destroying more 5,991 homes.
"CalRecycle's priority is to help wildfire survivors safely rebuild," CalRecycle Director Rachel Machi Wagoner said. "Responding to the now year-round wildfire season created by the climate crisis, CalRecycle works closely with our local, state and federal partners to speed the recovery in California communities."
To view the data, please visit the 2020 Debris Operations Dashboard.
California's Consolidated Debris Removal Program
Implemented under the leadership of the Cal OES and local governments, the Consolidated Debris Removal Program offers survivors of the wildfires a streamlined option to clear their properties with no out-of-pocket costs. Following the specialized removal of household hazardous waste from burned parcels, CalRecycle oversees and manages contractors conducting the second phase of debris removal. Once cleaned, each property is tested to ensure that no residual toxins, such as heavy metals, remain to endanger those rebuilding.
Debris removal operations are coordinated across local jurisdictions, state agencies and departments, federal representatives, and Tribal representatives. Property owners who wish to conduct their own cleanup or hire private contractors to remove wildfire debris are still bound by local safety and environmental standards and requirements.
For more information on the state's wildfire recovery efforts, visit Cal OES's dedicated page.