Debris removal crews continue to make quick work of clearing remnants from 2021's worst wildfires. Crews have begun the identification and removal of hazardous trees statewide. This week, the felling and removing of hazard trees in El Dorado County continues following a pause induced by winter storms. Trees marked blue for removal in designated recovery areas indicate an important step on the road to rebuilding the impacted disaster areas.
Hazard tree removal is a component of the State's Consolidated Debris Removal Program. This program allows for property owners to receive state assistance in the clearing of potentially harmful debris following a disaster at no cost to the applicant.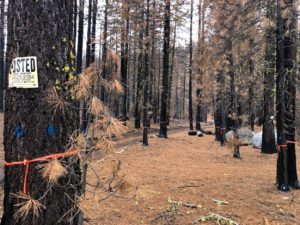 The California Governor's Office of Emergency Services (Cal OES) along with partnering state agencies including the Department of Resources Recycling and Recovery (CalRecycle) identified 24,767 hazardous trees for removal statewide, starting first with El Dorado and Plumas Counties. So far, the team has identified 11,848 in El Dorado County and 10,798 in Plumas county. Although the latest Winter storms have delayed operations in Plumas County, work in El Dorado County has resumed.
"As we continue moving forward in the recovery process, removal of hazard trees is a path to brighter days ahead," said Cal OES Deputy Director of Recovery Operations Ryan Buras. "State and local leaders are dedicated to ensuring a safe environment for the community to successfully rebuild."
Trees are sometimes categorized as potentially hazardous items subject to state removal. Why? As a tree is exposed to burning in a fire, its structural integrity can be compromised making it susceptible to falling over. Often, the tree can look entirely normal from the outside but be damaged beneath the surface, creating safety issues if it falls on infrastructure, animals, or people.
Luckily, Cal OES and CalRecycle work with certified arborists to discern which trees are compromised and which are safe to remain. Hence the blue marks on trees marked to be "felled" or cut down by professionals to keep the surrounding areas protected. The goal is to keep as many healthy trees as possible and to remove the trees that will not recover.
"Trees are a beloved part of these California communities recovering from wildfires," CalRecycle Director Rachel Machi Wagoner said. "We take care in our work with our partners and contractors to remove hazards and preserve the environment, so families can rebuild as safely as possible."
Hazard tree removal is a crucial step toward rehabilitation of an impacted area, as the rebuilding process can only begin once all hazardous materials are removed from a site.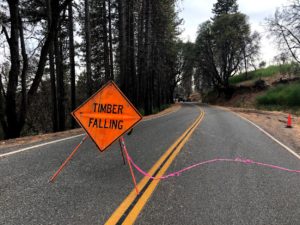 California's Consolidated Debris Removal Program
Implemented under the leadership of Cal OES and local governments, the Consolidated Debris Removal Program offers survivors of the wildfires a streamlined option to clear their properties with no out-of-pocket costs. Following the specialized removal of household hazardous waste from burned parcels, CalRecycle oversees and manages contractors conducting the second phase of debris removal. Once cleaned, each property is tested to ensure that no residual toxins, such asbestos and heavy metals, remain to endanger those rebuilding.
Debris removal operations are coordinated across local jurisdictions, state agencies and departments, federal representatives, and Tribal representatives. Property owners who wish to conduct their own cleanup or hire private contractors to remove wildfire debris are still bound by local safety and environmental standards and requirements.
The state removes hazard trees from the sites of some of the most devastating California fires. Watch an example of professional tree removal from the 2018 Camp Fire here.
Data as of 1/5/2022 at 3:47pm. View the 2021 Debris Removal Dashboard here.