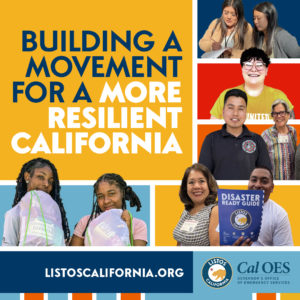 Listos California partners positioned to amplify the state's preparedness, response and recovery efforts through outreach and education
SACRAMENTO, CA – With extreme heat hitting broad swaths of country, and peak fire season still on the horizon in California, Governor Gavin Newsom today announced $25 million in grants being awarded to more than 70 community partners to build disaster resiliency in areas of the state most susceptible to emergencies.
As the state continues to experience more intense and complex natural disasters, as evidenced by the extreme weather that impacted much of the state in early 2023, this third round of Listos California funding is part of a continuing effort to enhance disaster preparedness through a trusted partner network.
"With Listos California, we're continuing to protect lives and livelihoods by investing in community-based outreach and education efforts where it is needed most," said Governor Gavin Newsom.
Headquartered at Cal OES, Listos California grants prioritize communities that are considered both socially vulnerable and at a high risk of being impacted by wildfire, flood, earthquake, drought or heat.
"As we continue to anticipate more climate-driven disasters in the future, we know these emergencies don't impact everyone in the same way," said Cal OES Director Nancy Ward. "Through Listos California, we connect with communities to provide them life-saving information through culturally competent, in-language efforts.
Seeing the urgent need to protect Californians from disasters, Governor Newsom created Listos California shortly after taking office in 2019 in response to the Camp Fire in Butte County which claimed 80 lives and disproportionately ravaged elderly and vulnerable community members.
The state's goal was to build more resilient communities and use new ways to reach those who often are often bypassed by traditional outreach efforts – older adults, people with disabilities, the homeless, immigrants and refugees as well rural Californians and those living in areas with limited broadband access.
Already this year, Listos California has engaged more than one million Californians providing meaningful, personalized interactions to meet Californians where they are at and help them prepare for, respond to and recover from disasters.
Listos California played a prominent role in the state's response to devastating winter storms, mobilizing teams of community members to make personalized, unique phone calls to more than 2 million Californians at risk of flooding and signing nearly 50,000 households up for emergency alerts.
Cal OES has also re-awarded the non-profit Valley Vision, Inc. to assist with communications and outreach to relevant partners.
Community-based organizations, Tribal Governments and Community Emergency Response Teams applied for the Listos California grants through a competitive process to be a part of this culturally competent outreach and education campaign.
Preparedness Resources
As our climate continues to change, complex interrelated threats bring more challenges to California's most at-risk populations. In coordination with this new round of funding, Listos California has released a new round of materials ahead of September as Preparedness Month.
This comprehensive suite of in-language messaging and materials includes topics on:
Extreme heat
Power outages
Wildfire
Wildfire smoke
Water Safety
Earthquakes
To view the full list of grantees, along with their service areas and populations served, visit the Listos Atlas.
###