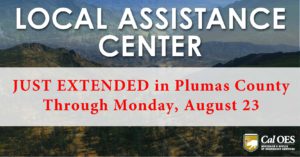 ***LOCAL ASSISTANT CENTER NOW CLOSED***
In the ongoing mission to support survivors impacted by the most recent round of wildfires, the California Governor's Office of Emergency Services (Cal OES), in coordination with local and state agencies, announces the EXTENSION of a new Local Assistance Center (LAC). The Plumas County LAC will now remain open through Monday, August 23 to give survivors of the Beckwourth Complex and Dixie Fires a second opportunity to meet with local and state agency representatives and start the road to recovery.
The lightning-sparked Beckwourth Complex Fire is 98-percent contained after burning nearly 106,000 acres.
The Dixie Fire, on the other hand, is still very active as of Friday, August 20. This gargantuan fire, which has charred parts of five counties near Lake Almanor and Honey Lake, surpassed 700,000 acres overnight Thursday, August 19 as firefighters struggled to bolster containment lines.
More than 16,000 structures are threatened by the fire that's already destroyed more than 650 homes and 565 other structures during its month-plus rampage across Butte, Plumas, Tehama, Lassen, and Shasta counties. Nearly 6,000 firefighting personnel are assigned to the blaze, the second-largest wildfire in recorded California history and the largest to have originated from a single origin
A LAC is activated following major disasters to support survivors and businesses that have suffered disaster-related losses or damages. Each center is unique and locally driven and can include support from state, federal, and non-profit agencies. For more information and real-time updates, wildfire survivors can check Plumas County's Dixie Fire Recovery Information webpage or call the Local Assistance Center directly at (530) 283-6586.
LAC LOCATION:
1446 East Main Street
Quincy, CA 95971
HOURS OF OPERATION:
Thursday 08/19/21 – Monday 08/23/21
Hours 11 a.m. – 6 p.m.
STATE AGENCIES CONFIRMED:
Department of Motor Vehicles (DMV)
Franchise Tax Board (FTB)
Department of Insurance (CDI)
Contractors State Licensing Board (CSLB)
Housing and Community Development (HCD)
United Policyholders
Plumas County Public Health
Plumas County Building
Plumas County Planning
Plumas County Assessor
Plumas County Clerk-Recorder
Environmental Health
Behavioral Health
Social Services
Veterans' Services
###