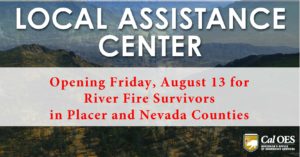 With most mandatory evacuations now lifted for the River Fire, Placer and Nevada counties along with support from state agencies including the California Governor's Office of Emergency Services (Cal OES) will open a joint Local Assistance Center (LAC) for impacted residents.
LACs are activated following major disasters to support survivors and businesses that have suffered disaster-related losses or damages. Each center is unique and locally-driven with support from local, state, federal, and nonprofit agencies. Typical services offered at a LAC include essential document replacement, property tax adjustments, housing and social services, grief counseling, and initial building services consultations, among others. Representatives from community support nonprofits, state agencies, and both counties are expected to be available. The lineup of services is still being finalized. All updates will be published here as well as on Placer and Nevada counties' websites in the coming days.
Residents of both counties may also call 211 for the latest information and available resources to support their recovery.
LAC LOCATION;
24825 Ben Taylor Rd.

Colfax, CA 95713
HOURS OF OPERATION:
Friday 08/13/21: 10 a.m. – 7 p.m. 

Saturday 08/14/21: 10 a.m. – 6 p.m. 
STATE AGENCIES CONFIRMED:
Local Chapter of The American Red Cross

Department of Motor Vehicles (DMV)

Franchise Tax Board (FTB)

California Department of Insurance (CDI)

Contractors State License Board (CSLB)

Housing Community Development (HCD)
###