The California Governor's Office of Emergency Services (Cal OES) is recruiting for a Southern California-based Senior Public Information Officer and an Information Officer focused on the Earthquake Early Warning System to join our best-in-class communications team.
For these exciting roles, Cal OES is seeking two communications professionals who are deeply experienced in communications and media relations, work well under pressure and who understand campaign-based education and outreach efforts.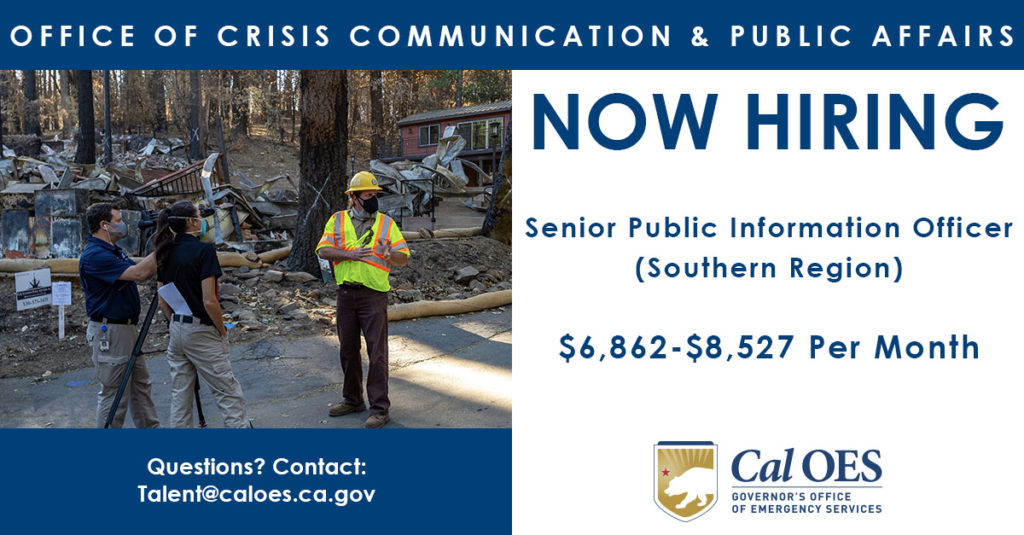 The Senior Public Information Officer will be a Southern California-based position.
Key Responsibilities:
Serve as lead communications professional with the public, media, businesses, and others in the southern region.
Develop toolkits, press releases and other outreach products.
Assist with the strategic plan for educating the public on emergency preparedness.
Work with local partners to produce and disseminate information to the public.
This work is key to improving disaster-planning for all-hazards, and meeting community needs before, during and after a disaster.
Click here to access the CalCareers job posting.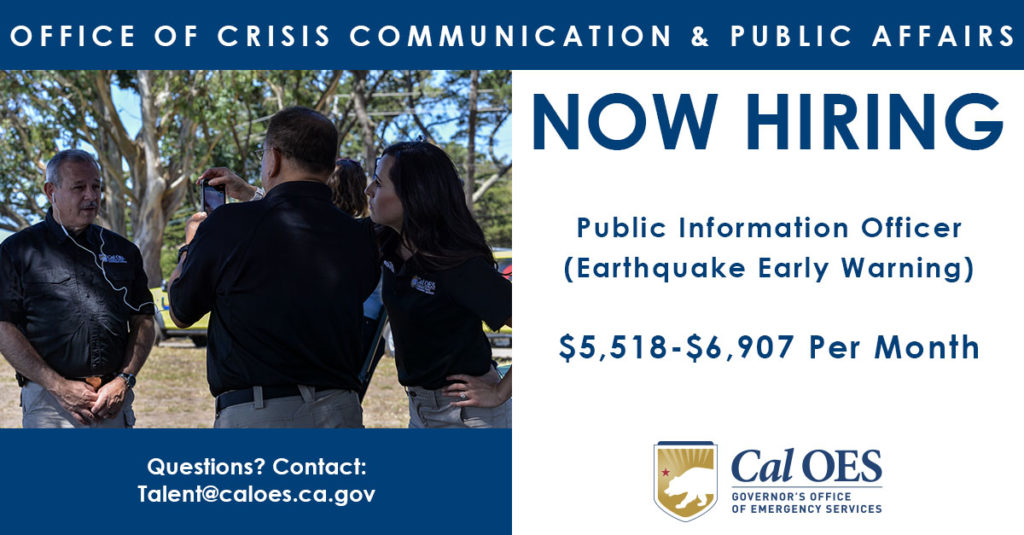 The Information Officer I will do outreach and education about California's nation-leading earthquake early warning technology.
Key Responsibilities:
Assist with development of the department's communication strategy and tactics to deliver messages to help Californians to prepare for, respond to and recover from disasters, like earthquakes.
Works on community outreach efforts and educational events.
Develops briefing materials, talking points, and speaking remarks.
This position is vital to develop messaging that informs Californians on the importance of being earthquake prepared.
Click here to access the CalCareers job posting.
Cal OES takes pride in being an innovative, agile employer and as a department is constantly evolving our communications approach to advance our mission of protecting Californians from hazards of all types. The successful candidates will be a communicator with media relations expertise, a passion for news, a commitment to equity and the creativity to build an audience on our social and owned-media platforms. The ideal candidate will have a background in public sector communications, news, journalism or social media.