First Phase of Debris Removal for Oak and McKinney Fires Complete, Mill Fire Recovery Operations Now Underway
As wildfire survivors in Mariposa and Siskiyou counties work to recover from the devastating wildfires that swept through their communities earlier this year, the California Governor's Office of Emergency Services (Cal OES), in coordination with state and local partners, just announced that Phase I of the debris removal process for the Oak and McKinney fires is complete, with cleanup for the Mill Fire kicking off September 13.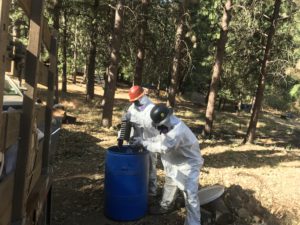 "We stand with all of the California communities adversely affected by this year's destructive wildfires," said Ryan Buras, Cal OES Deputy Director of Recovery Operations. "Our Cal OES debris removal teams are working closely with the Department of Toxic Substances Control to ensure that all household hazardous waste is safely removed from residential properties so that Mariposa and Siskiyou County families can safely begin rebuilding their homes and community."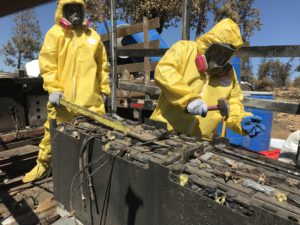 The California Department of Toxic Substances Control (DTSC), at the request of Cal OES, started the first phase of the state's Consolidated Debris Removal Program in Mariposa County for Oak Fire survivors on August 15 and finished operations on August 25. In total, crews cleared 166 residential properties of household hazardous waste (such as batteries, herbicides, pesticides, propane tanks, asbestos siding, and paints) that may pose a threat to human health, animals, and the environment. This work is done automatically for all residential properties that have been damaged or destroyed by a wildfire.
In Siskiyou County, debris removal operations for the McKinney Fire also recently wrapped with DTSC Hazmat crews clearing household hazardous waste from a total of 96 residential properties.
Phase I work for the Mill Fire, which also burned in Siskiyou County, is now underway as DTSC crews begin assessments on a total of 116 residential properties.
Wildfire survivors can track the progress of Phase I work across the state by accessing the DTSC Household Hazardous Waste Assessment and Removal Dashboard where users can isolate the data according to fire and search residential sites by address to see when work was completed.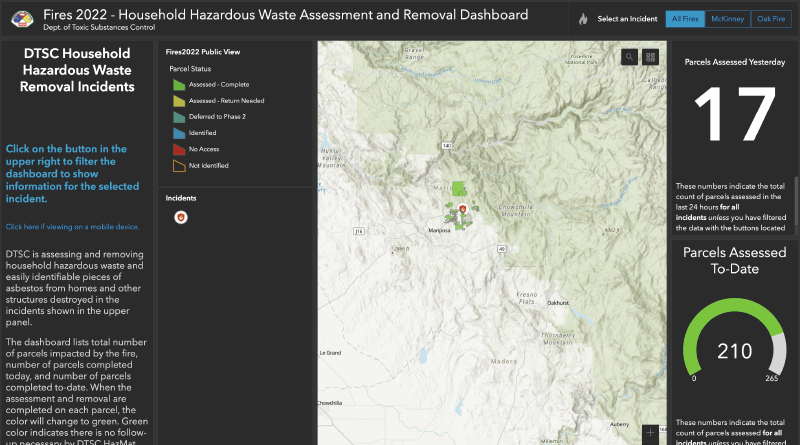 The state's Consolidated Debris Removal Program consists of two phases. Once Phase I is complete and all household hazardous waste has been cleared, Phase II or the removal of fire-related, structural debris can begin.
Additional information on the statewide debris removal program can be found here. More information regarding DTSC's emergency response to wildfires and management of hazardous waste can be found here.