Big Basin Redwoods State Park has seen its share of nature's cycle – growth, destruction, renewal. The year 2020 was a wildfire season that the park hadn't seen in more than 100 years. The CZU Complex Wildfire burned the majority of the park's 18,000 acres, destroying more than 200 buildings during its fury that lasted from August 16th until it was fully contained on September 22nd.
Now, as the one-year anniversary of its outbreak arrives, recovery efforts are well underway with many milestones already reached.
Here are some facts as of this post:
Debris removal is 100% complete in Big Basin Redwoods State Park (deadline of one month was met)
Tree felling is well over 50% complete with more than 10,000 trees felled
Fewer than 7000 trees remain on the current manifest
Fewer than 15,000 trees remain on an additional 26 parcels within the park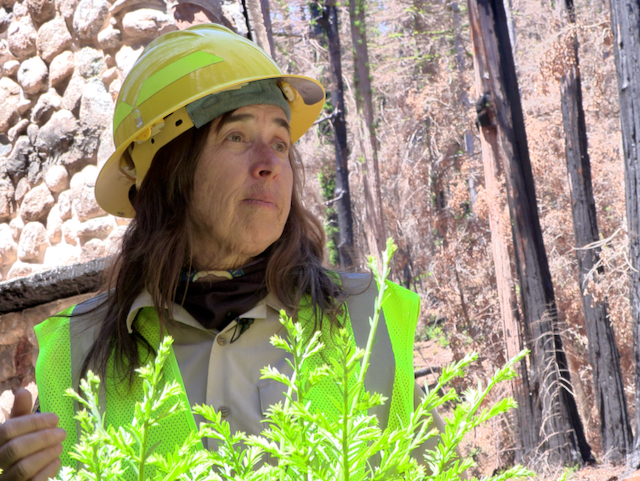 In this story, California State Parks environmental scientist Joanne Kerbavaz gives us a tour of the park, showing us some of the damage and what's being done to open the park for visitors once again. We also hear from Baylor Cartica, the man in charge of coordinating recovery efforts for Cal OES in Big Basin with our partners Cal Recycle and State Parks.
If you're a fan of podcasts, we invite you to listen to the full tour of the park in our podcast episode; if you've never listened to a podcast, now's the time:  Podcast #86: Come Along with Us on Our Walking Tour of Damage and Recovery of Big Basin Redwoods State Park
Links
Donate to MPF's Big Basin Recovery Fund
Join the team in laying the groundwork for rebuilding this iconic park. Together, we can help Big Basin Redwoods State Park recover and thrive once again.
Donate to Save the Redwoods League to support the Big Basin Recovery Fund
Sempervirens Fund has also created a Santa Cruz Redwoods Restoration Fund to restore redwoods in the rest of the Santa Cruz mountains affected by the wildfires.
Donate to Friends Fire Relief Fund
Friends of Santa Cruz State Parks (Friends) is a vital partner with California State Parks, creatively working to ensure our cherished local parks and beaches are thriving and available to all. They are creating the Friends Fire Relief Fund for direct, short-term assistance as well as longer-term recovery efforts at Big Basin Redwoods State Park and other parks in the Santa Cruz Mountains impacted by the CZU Lightning Complex Fires.