The California Governor's Office of Emergency Services (Cal OES) encourages all Californians to take simple steps to prepare for emergencies in their homes, businesses, and communities. Disasters can strike at any time without warning.
How prepared are you?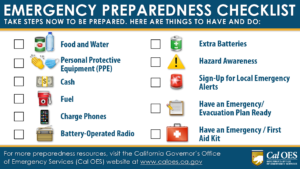 Fast Five: Top Safety Tips for Any Disaster
1
Get alerts to know what to do. Go to CalAlerts.org.
2
Make a plan to protect your people.
3
Pack a Go Bag with things you need.
4
Build a Stay Box for when you can't leave.
5
Help friends and neighbors get ready.
Before
Red Flag warning means prepare NOW.
Plan for no electricity. Don't use candles.
Get a bandana or mask to protect the lungs.
Check that your water hose is working.
Clean gutters. Remove brush near your home.
During
Don't wait, evacuate!
Leave smoky areas quickly.
Close all doors and windows.
Turn off air conditioner.
Open or remove curtains, shades or blinds.
Prepare pets for evacuation.
Before
Keep storm pipes and drains clear.
Move valuable items to higher floors.
Get plastic tarps, sandbags to keep out water.
Keep car gas tank at least half full.
Learn best escape routes to higher ground.
During
Don't wait, evacuate!
Never walk through moving water.
Never drive into flooded areas.
Watch for mudslides after wildfire.
Watch for tsunami on the coast after an earthquake.
Before
Secure tall furniture to walls.
Hang nothing heavy above a bed, sofa or chair.
Get free MyShake app for earthquake warnings.
Practice earthquake safety drills.
Learn how to turn off gas electricity and water.
During
Don't rush outside. Get under a table or desk.
Stay in bed and cover head with a pillow.
Outside, move away from anything that could fall.
Pull over car and stop away from buildings, trees.
Be ready for aftershocks.
Safety Tips: Power Shutoff
Before
Prepare flashlights and lanterns – no candles.
Keep phone batteries fully charged.
Keep car gas tank at least half full.
Buy food that won't spoil and doesn't need cooking.
Buy ice to keep food and medicines in coolers.
During
Unplug appliances/electronics to prevent damage.
Leave one light plugged in.
Keep your refrigerator and freezer closed.
Use generators, camp stoves and grills outdoors.
Don't use your gas stove for heat.
In-Language Preparedness Resources
Through Listos California, Cal OES has free print, online, text message, social media and streaming audio and video resources that you can use and share to promote disaster preparedness in your home and community. Help yourself to 100+ resources in more than 20 languages.
This page contains a collection of documents, links and videos, all in one place to help make it easier for you to get prepared for when – not if – the next emergency will occur.
Get Ready Kids!
Get Ready Schools!
Get Ready with Technology!
Preparedness for Pets
Preparedness for Businesses and Organizations