Following a successful 12-week mission to expand the rate of vaccinations in California in an efficient, effective and equitable manner, the California Governor's Office of Emergency Services (Cal OES) will conclude its works at the Community Vaccination Clinic (CVC) at the Oakland Coliseum on Sunday, May 9, 2021.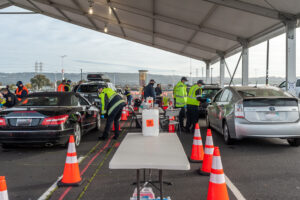 Alameda County will take over the site on May 10, 2021, and keep it open for two additional weeks to complete second dose appointments.
The transition comes as the site saw a rapid reduction in first-dose appointments in the last two weeks in April, with requests dropping from 6,000 a day to approximately 400.
Cal OES and the Federal Emergency Management Agency (FEMA) jointly opened the Oakland CVC as a first-in-the-nation pilot project on February 16, 2021, with an explicit focus on making sure communities hit hardest by COVID-19 are not left behind.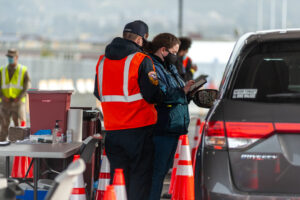 The data on the populations being served at the Oakland Coliseum and its sister site in Los Angeles demonstrates that this strategy worked. The vaccines administered at these sites went to the communities where they were needed the most with more than 68 percent administered to targeted underserved communities and people of color.
Both locations chosen for these efforts are in some of the most diverse and socioeconomically challenged communities in the country.
After successfully administering half a million doses, the Oakland CVC transition is yet another sign of ongoing progress in the pandemic fight and signals a necessary shift in focus for the vaccine campaign. Alameda County is repositioning to focus on more localized options that address this changing vaccine landscape and reflect positive feedback about community-based strategies. With supply becoming more abundant, and alternative distribution channels, such as local pharmacies, hospitals, healthcare systems, and community clinics, providers are more actively administering doses. received their shots.
Vaccines remain readily available to those in the Bay Area for those who have not yet received their shots. To find an appointment near your, visit myturn.ca.gov or call 1-833-422-4255.