The Governor's Office of Emergency Services (Cal OES) is recruiting for several positions. Cal OES is a dynamic and fast-paced organization with a problem-solving mentality. The department takes pride in being innovative, agile and taking bold action to advance our mission of protecting Californians from hazards of all types.
Executive Director, Seismic Safety Commission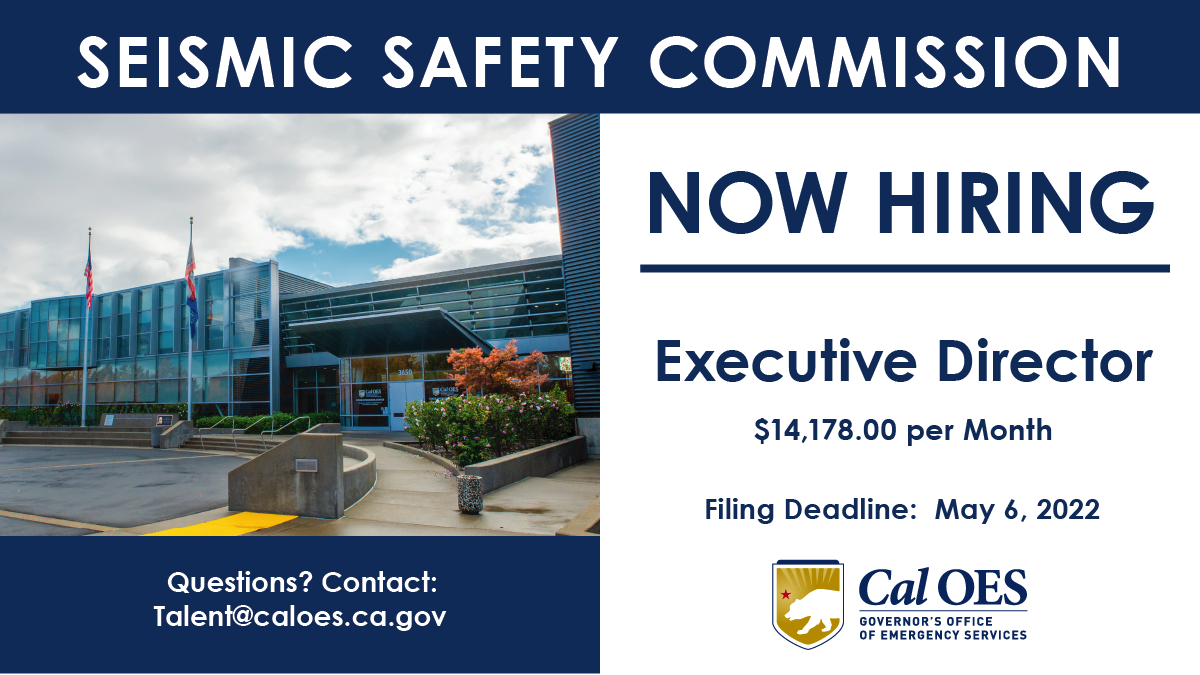 Governed by a Board of fifteen Commissioners, the Seismic Safety Commission (SSC) seeks an accomplished and mission-aligned individual who can provide dynamic and visionary leadership while managing the SSC into their next stage of growth. The new Executive Director will encourage teamwork within the organization, effectively utilize the skills of an experienced and high performing staff, delegate as appropriate, be hands-on and highly productive, set an example for strong customer service, and model an appropriate work/life balance. The Executive Director will be positive and energetic and capable of engaging in a collaborative fashion with staff, the Commissioners, media, regional, State and Federal agencies, and various stakeholders. The ideal candidate should be innovative and resourceful; be strategic and goal oriented; and insightful. Furthermore, the ideal candidate should be able to anticipate issues, navigate challenges, employ excellent communication skills and cultural humility in working with diverse constituencies.
Application Deadline: May 6, 2022
Salary Range: $14,178.00 per month  
How to Apply: Click here
Tribal Liaison
Cal OES is looking for a Tribal Liaison to join the team. In this important role, this position will be the Tribal Liaison to all Native American tribes in California on emergency management, including response and recovery operations. This role coordinates all related preparedness activities for Region Operations, provide technical expertise agency-wide about culture, traditions, communication, and coordination with Tribal governments, as well as work with local, state, and federal partners. The successful candidate will have knowledge and understanding of the culture and traditions of Native Americans, state and federal regulations, and tribal government emergency management practices.
Application Deadline: 4/20/22
Salary Range: $4,844.00 – $7,263.00 per month
How to Apply: Click here
Hazard Mitigation Grant Specialist
The Hazard Mitigation Grant Specialist assists California's most vulnerable communities in adapting to climate change and enhancing their long-term disaster resiliency. The position will be responsible for technical assistance and outreach across the state to assist communities in applying for and implementing mitigation projects for all hazards. The Grants Specialist will be responsible for the full lifecycle of grant management, from application review, project monitoring, through the closeout process.
Application Deadline: Until Filled
Salary Range: $5,383.00 – $6,739.00 per month
How to Apply: Click here