**Editor's Note: The Spanish version immediately follows the English version**
Summer is here and with it comes the occasional extreme heat streak. While some of the warmer weather comes with the summer territory, high record temperatures can lead to emergency situations. By following a few important steps, you can keep yourself, your loved ones, neighbors, and pets comfortable and safe during a heatwave.
DURING A HEATWAVE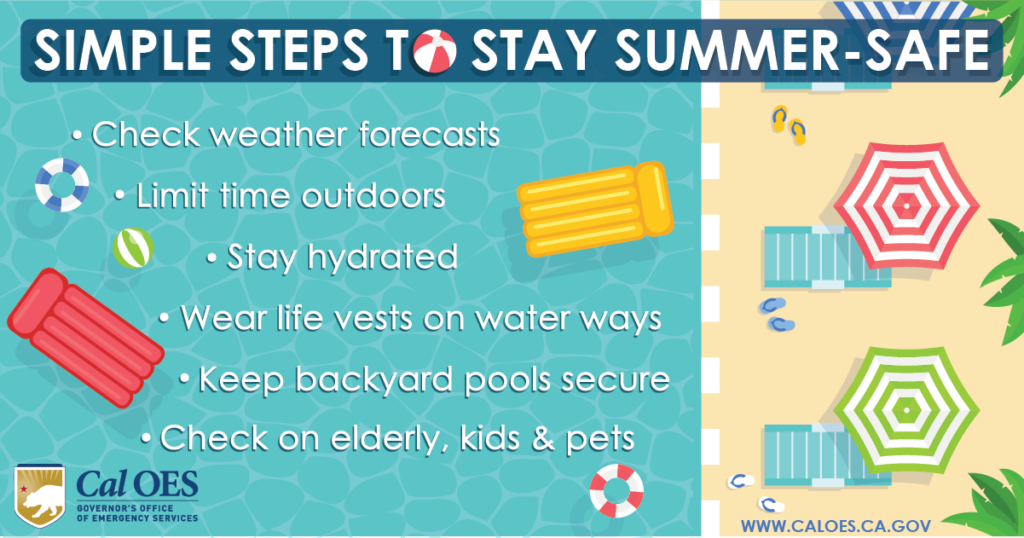 Don't let a heatwave turn into an emergency.
Avoid strenuous activity and direct exposure to the sun during the hottest part of the day. If you can, stay cool at home indoors.  If your home does not have air conditioning, find a public indoor location to keep cool. You can also contact your local county to find out if cooling shelters are available in your area. A few hours in air conditioning can help your body better react to the heat when you go outside.
If you must go outside, wear lightweight, loose-fitting clothing. A hat can help shade your face from the direct sunlight. Protect your skin by using sunscreen with SPF 30 or above.
It's important to stay hydrated when temperatures rise. Don't wait until you are thirsty to drink water. Make sure your pets have plenty of fresh, cool water. Keep their water bowl out of direct sunlight.
Never leave children or pets in the car – no exceptions. Even when temperatures outside are mild, the temperature inside the car can reach 100 degrees in less than 10 minutes.
ENERGY CONSERVATIONS TIPS & FLEX ALERTS
Flex Alerts ask consumers to voluntarily conserve electricity when there's an anticipated supply shortage. When you use less energy during a Flex Alert, you reduce the likelihood of rotating power outages.
Flex Alerts are issued a day before so consumers can prepare by shifting energy use from afternoon to morning.
BEFORE AN ALERT
Pre-cool your home by lowering the thermostat to 72 degrees
Close blinds and drapes to keep the heat out
Turn off unnecessary lights
Charge mobile devices, laptops, and medical equipment
Use dishwashers, washing machines, and other major appliances before 3pm
DURING AN ALERT
Avoid using major appliances
Set your thermostat to 78 degrees
Unplug or turn off electrical devices that are not in use
Use fans when possible
Be prepared to reduce your energy use – sign up to receive Flex Alerts.
STAY INFORMED
Stay alert for information about upcoming extreme heat conditions. Anyone is at risk for heat-related illness. Check in on neighbors who may have mobility issues or no air conditioning.
For more tips on conserving energy, visit: https://www.flexalert.org/save-energy
COOLING CENTERS
Find information here.
MEDIA RESOURCES – EXTREME HEAT GRAPHICS
Languages include: Arabic, Armenian, Chinese, Farsi, Japanese, Khmer, Korean, Punjabi, Russian, Spanish, Tagalog, Vietnamese
https://www.dropbox.com/sh/5tx2wknf6n9wwfw/AACSDf-Us5Z6CfTN1BUMjGzOa?dl=0
COMO PROTEGERSE DE LAS ALTAS TEMPERATURAS
El verano no ha terminado y las temperaturas extremas se siguen registrando y durante los primeros días de septiembre se esperan temperaturas muy altas que podrían acercarse al número récord y desencadenar otras emergencias. Así que con el solo hecho de seguir  algunos consejos, usted puede protegerse y cuidar de su familia, vecinos y mascotas durante un evento de calor extremo.
DURANTE UNA OLA DE CALOR
No permita que una ola de calor se convierta en emergencia.
Evite actividades intensas al aire y estar expuesto al sol extenuante durante las horas más calurosas del día. Si puede quedarse en casa hágalo y si no cuenta con aire acondicionado, busque un centro de enfriamiento. De igual manera puede ponerse en contacto con las autoridades de su Condado, para saber si habilitarán refugios en su hogar. El permanecer unas cuantas horas en un lugar con aire acondicionado, ayudará a que su cuerpo enfrente de mejor manera las altas temperaturas durante el resto del día.
Si por cuestiones laborales debe salir de casa, vista ropa ligera con colores claros. Portar un gorro puede ser de gran ayuda y no olvide utilizar un bloqueador solar SPF 30 o de mayor puntuación.
Es importante que se mantenga hidratado y más cuando las temperaturas aumentan. No espere a que tenga sed para tomar agua y asegúrese de que sus mascotas también cuenten con el agua suficiente.
Nunca deje a sus hijos o mascotas en el interior de un auto. Aunque afuera las temperaturas no se sientan tan intensas, en el interior del auto, pueden alcanzar en menos de 10 minutos los 100 grados.
CONSEJOS PARA AHORRA ENERGÍA Y ALERTAS FLEX
Las Alertas Flex piden a los consumidores que de manera voluntaria ahorren energía cuando se contempla la posibilidad de que se registre una excesiva demanda. Si contribuye con ello, ayudará a que disminuya la posibilidad de apagones.
Las alertas Flex son emitidas un día antes para que los consumidores se puedan preparar y utilicen los electrodomésticos durante las primeras horas del día.
ANTES DE UNA ALERTA
Enfríe su hogar disminuyendo la temperatura a 72 grados
Cierre las persianas y las cortinas
Apague las luces que no necesita
Cargue teléfonos, tabletas y equipo médico.
Utilice el lavaplatos, lavadoras y otros electrodomésticos de gran tamaño antes de las 3 de la tarde.
DURANTE UNA ALERTA
Evite utilizar los electrodomésticos más grandes
Programe el termostato a 78 grados
Desconecte los aparatos electrónicos que no utilice
Use fans when possible
Prepárese para reducir el consume de energía. – regístrese para recibir alertas Flex.
MANTÉNGASE INFORMADO
Manténgase al tanto de la información más reciente sobre las condiciones del clima. Todos estamos en riesgo de vernos afectados por un golpe de calor o insolación. Si tiene vecinos con algún padecimiento o que no cuentan con aire acondicionado, ayúdelos por favor.
Para más consejos de conservación de energía visite: Español (flexalert.org)
CENTROS DE ENFRIAMIENTO
Encuentre la información en este enlace aquí.
RECURSOS PARA LOS MEDIOS – GRÁFICOS SOBRE CALOR EXTREMO
En los siguientes idiomas: árabe, armenio, chino, parsi, japonés, jémer, coreano, panyabí, ruso, español, tagalo y vietnamita.
https://www.dropbox.com/sh/5tx2wknf6n9wwfw/AACSDf-Us5Z6CfTN1BUMjGzOa?dl=0