Summer is here and with it comes the occasional extreme heat streak. While some of the warmer weather comes with the summer territory, high record temperatures can lead to emergency situations. By following a few important steps, you can keep yourself, your loved ones, neighbors, and pets comfortable and safe during a heatwave.
DURING A HEATWAVE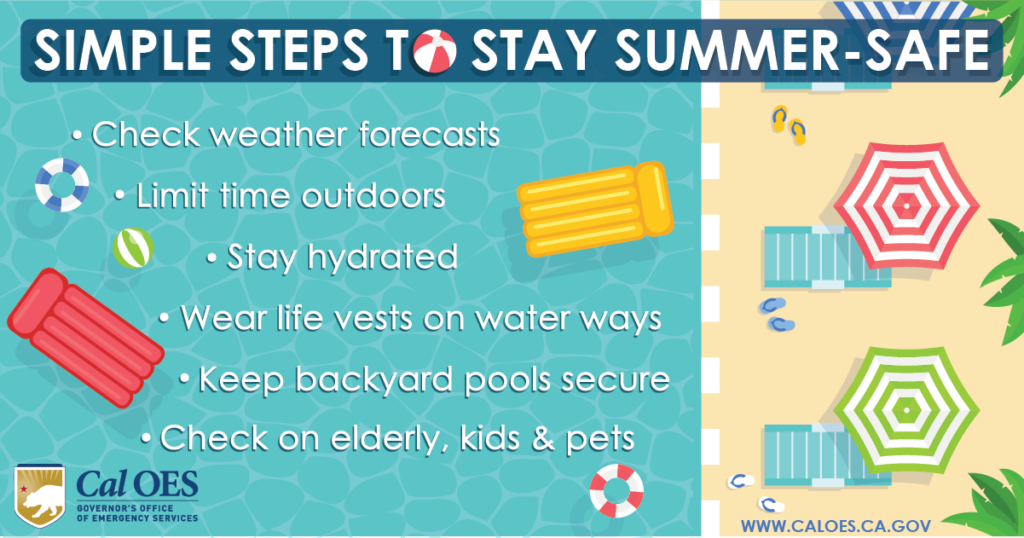 Don't let a heatwave turn into an emergency.
Avoid strenuous activity and direct exposure to the sun during the hottest part of the day. If you can, stay cool at home indoors.  If your home does not have air conditioning, find a public indoor location to keep cool. You can also contact your local county to find out if cooling shelters are available in your area. A few hours in air conditioning can help your body better react to the heat when you go outside.
If you must go outside, wear lightweight, loose-fitting clothing. A hat can help shade your face from the direct sunlight. Protect your skin by using sunscreen with SPF 30 or above.
It's important to stay hydrated when temperatures rise. Don't wait until you are thirsty to drink water. Make sure your pets have plenty of fresh, cool water. Keep their water bowl out of direct sunlight.
Never leave children or pets in the car – no exceptions. Even when temperatures outside are mild, the temperature inside the car can reach 100 degrees in less than 10 minutes.
ENERGY CONSERVATIONS TIPS & FLEX ALERTS
Flex Alerts ask consumers to voluntarily conserve electricity when there's an anticipated supply shortage. When you use less energy during a Flex Alert, you reduce the likelihood of rotating power outages.
Flex Alerts are issued a day before so consumers can prepare by shifting energy use from afternoon to morning.
Details on latest Flex Alert issued July 9, 2021
BEFORE AN ALERT
Pre-cool your home by lowering the thermostat to 72 degrees
Close blinds and drapes to keep the heat out
Turn off unnecessary lights
Charge mobile devices, laptops, and medical equipment
Use dishwashers, washing machines, and other major appliances before 3pm
DURING AN ALERT
Avoid using major appliances
Set your thermostat to 78 degrees
Unplug or turn off electrical devices that are not in use
Use fans when possible
Be prepared to reduce your energy use – sign up to receive Flex Alerts.
STAY INFORMED
Stay alert for information about upcoming extreme heat conditions. Anyone is at risk for heat-related illness. Check in on neighbors who may have mobility issues or no air conditioning.
For more tips on conserving energy, visit: https://www.flexalert.org/save-energy
COOLING CENTERS
Find information here: https://news.caloes.ca.gov/statewide-july-heat-wave-prompts-counties-to-open-cooling-centers/
GOVERNOR NEWSOM SIGNS EXTREME HEAT EMERGENCY PROCLAMATION:
On Friday, July 9, 2021, Governor Gavin Newsom signed an emergency proclamation to free up additional energy capacity amid a major heatwave and the Bootleg Fire in Southern-Central Oregon, which is currently threatening a regional transmission system and impacting California's power supply. The proclamation suspends certain permitting requirements, allowing the use of backup power generation and freeing up additional energy capacity to help alleviate the heat-induced demands on the state's energy grid.
MEDIA RESOURCES – SOUND BITES
HEAT EVENT OVERVIEW: https://youtu.be/WAwu4rWtU1k
STATE RESPONSE: https://youtu.be/yNnKx-FccKQ
ENERGY CONSERVATION: https://youtu.be/WO2ukMiEW8w
MEDIA RESOURCES – EXTREME HEAT GRAPHICS
Languages include: Arabic, Armenian, Chinese, Farsi, Japanese, Khmer, Korean, Punjabi, Russian, Spanish, Tagalog, Vietnamese
https://www.dropbox.com/sh/5tx2wknf6n9wwfw/AACSDf-Us5Z6CfTN1BUMjGzOa?dl=0
***Updated as of July 9, 2021, 6 p.m.