Eric P. Swanson has been sworn in as Deputy Director of Finance and Administration at the California Governor's Office of Emergency Services.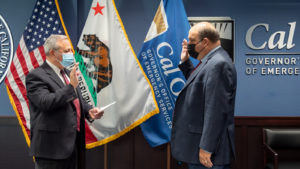 Swanson was Deputy Director of the Office of Fiscal Services at the California Department of Corrections and Rehabilitation, where he was Associate Director of the Budget Management Branch from 2016 to 2018.
He also held several positions at the Assembly Minority Office of Policy and Budget from 2008 to 2016, including Deputy Director of Budget and Principal Consultant. Swanson was a Principal Program Budget Analyst at the Department of Finance from 2006 to 2008.
He earned a Master of Business Administration degree from the University of California, Davis. This position does not require Senate confirmation and the compensation is $171,852. Swanson is registered without party preference.