How Wildfires Leave Communities Vulnerable to Mud, Debris Flows for Years After Flames Extinguished
With the state bracing for yet another round of wet weather just one week after Tropical Storm Kay drenched parts of Southern California, the California Governor's Office of Emergency Services (Cal OES) is reminding people living in communities near burn scars about the dangers of flash flooding.
Climate-driven wildfires take a toll on the California landscape, destroying homes and wildlife habitats, and polluting the air with emissions harmful to human health. But when the flames are extinguished, a new environmental hazard poses a threat to life and property — floods, mud flows, and debris flows.
In the aftermath of recent storms across Southern California triggered by Tropical Storm Kay, communities still recovering from previous wildfires had to deal with flash flooding in those burn scars. These areas left charred by flames and devoid of vegetation are unable to absorb rainwater. Because of this, locations that are downhill and downstream from burned areas are highly susceptible to flooding, mudslides, and debris flows, especially in and around steep terrain.
In some areas, where the fire burned hot enough or long enough, soils develop a layer that repels water, like rain on pavement. Rainfall that would normally be absorbed by the forest canopy, ground vegetation, and stable soil structure will instead quickly run off. Because of this, much less rainfall is required to produce a flash flood, and the potential for mudslides and debris flows increases with the loss of plant material that holds the soil in place.
Debris Flow Defined
Californians who live on or below hillsides — especially in areas impacted by recent wildfires — should be aware that the rainy season increases the possibility of potentially dangerous debris flows.
A debris flow is a fast-moving mass of material — slurries of water, rock, soil, vegetation, and even boulders and trees – that moves downhill by sliding, flowing and/or falling.
Debris flows range from a few square yards to hundreds of acres in area, and from a few inches to 50 feet deep. Even smaller ones can be locally dangerous: Imagine trying to walk through a 3-inch-deep mass of wet concrete moving at 30 mph.
Mud Flow vs. Debris Flow
Debris flows can take homes off their foundations; mud flows cannot.
Mud flows are mostly made of water and soil.
Debris flows carry things like vegetation, trees, large boulders, and vehicles.
Mud flows can become debris flows.
Debris and mud flows can occur five years after wildfires. Both happen fast, so heed evacuation warnings immediately!
Before Floods, Mudslides and Debris Flows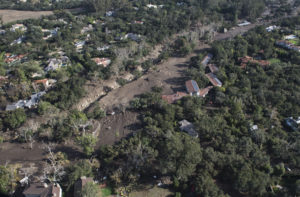 Pay attention to local emergency response messaging and heed evacuation notifications immediately.
Sign-up for local wireless emergency alerts sent by authorized government agencies.
Monitor incoming storms, especially if you live in burned areas or downstream/downslope of a burned area.
Make sure you have non-perishable emergency supplies and a disaster supply kit.
Have an evacuation plan in place for you and your pets.
Have a battery-powered AM/FM weather radio and a cell phone to listen for emergency updates and weather forecasts. Don't forget extra batteries!
Talk to your insurance agent about purchasing flood insurance.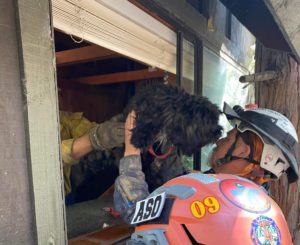 During Floods, Mudslides and Debris Flows  
Remember: local authorities may indicate it is safer for you and your family to shelter in place if flash flooding is not impacting your neighborhood.
Do not walk through moving water – just six inches of water can sweep an adult off his/her feet.
Do not attempt to drive through a flood, debris flow, or into flooded areas. It takes only a foot of water to float or sweep away most vehicles.
Real-Life Examples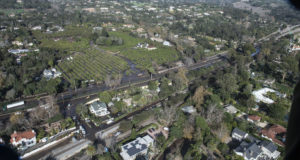 The mud flows and flash flooding that occurred recently in parts of the San Bernardino Mountains were in burn scars left behind in the wake of the 2020 wildfires. One of those blazes, the El Dorado Fire, left much of that entire region susceptible to dangerous flooding for years to come.
These San Bernadino mud flows also occurred about 175 miles east of Montecito, where in January 2018, debris flows killed more than 20 people and destroyed hundreds of homes a month after a huge wildfire scorched nearby hillsides.
Additional information on how Cal OES helps communities plan and prepare for disasters including flooding, mudslides, and debris flows can be found here.