Californians are urged to be prepared for wildfires as chances for thunderstorms and dry lightning increase this weekend. The National Weather Service issued a Fire Weather Watch for most of Northern California beginning Sunday morning through Monday.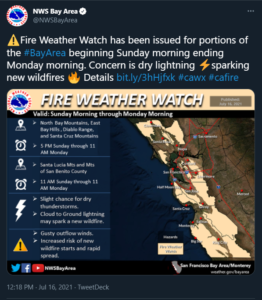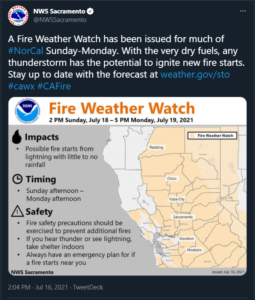 Forecasters are concerned dry lightning could spark new wildfires. Californians can follow five steps to prepare for an emergency:
STAY CONNECTED
Before a disaster or emergency, think about who you will need to connect with if you're forced to evacuate or shelter in place. Make a contact list with names, numbers, home, and email addresses. Your list should include at least one person who doesn't live in your area and won't be impacted by your local disaster.
GET ALERTS
Early warnings could make the difference between life and death during an emergency. The California Governor's Office of Emergency Services (Cal OES) and the Federal Emergency Management Agency (FEMA) have a Wireless Emergency Alert system to keep all Californians connected and informed. Go to CalAlerts.org to sign up for notifications in your county.
EVACUATION ACTION
Talk with your family and create an evacuation plan everyone can follow and easily remember in case you're ordered to leave home. This plan should include different ways of quickly exiting your community if your usual route isn't accessible during a wildfire. In case of separation, plan for a safe meeting place where you can all gather.
As a reminder, please don't wait until it's too late! Evacuate your home as soon as officials tell you it's necessary. Your belongings can be replaced. You and your family cannot.
To find resources such as public shelters during an emergency, visit 211ca.org or dial 2-1-1.
PACK A GO BAG
When a disaster hits, you might not have time to gather necessary supplies. Pack a Go Bag now and be ready to quickly grab it during an emergency. Think about the items you'd take if you only had two minutes to leave your home:
Copies of identification & insurance cards
Cash
Contact list
Local maps
Medicine & important medical information
Phone charger & backup battery
Flashlight
First Aid Kit
It's also important to pack a box if you're forced to stay home during a disaster. Your Stay Box should include at least three days of water and non-perishable food items for each person and pet in your family, trash bags, and a bucket you can use as a toilet.
HELP OTHERS
In a disaster, emergency response services can sometimes take a while to respond to everyone's needs, so it's important to familiarize yourself with your neighbors. Neighbors can help each other in many ways and can include people on your street or in your community. Once your family has established a preparedness plan, you should check in with your neighbors and make sure they're also ready to react to an emergency. Together, you can work towards keeping your family and community safe.