After a year off from professional Fourth of July celebrations due to the COVID-19 pandemic, holiday traditions big and small will return to California neighborhoods this year.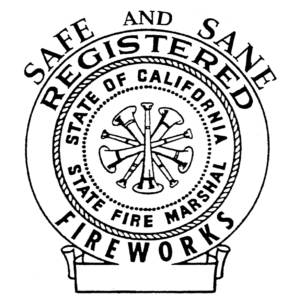 Fireworks go on sale in California on June 28, and nearly 300 communities allow "Safe and Sane" fireworks. The "Safe and Sane" seal indicates the firework is approved by authorities and legal to sell and use. It's important for Californians to know the law and understand the hazards of fireworks before setting them off.
Fireworks can cause serious damage and injuries if they're not used correctly. As California enters wildfire season, the California Governor's Office of Emergency Services (Cal OES) reminds Californians to understand how flying sparks or embers can cause a fire.
Know the Law:
California has a zero-tolerance policy for selling and using illegal fireworks. It's illegal to sell, transport, or use fireworks without the "Safe and Sane" seal. It's also against the law to possess or use fireworks in a community where they're not permitted.
Illegal fireworks include:
Sky rockets
Bottle rockets
Roman candles
Aerial shells
Firecrackers
Other fireworks that explode, go into the air, or move on the ground in an uncontrollable manner are also illegal in the state.
Fireworks Safety Tips:
Use only State Fire Marshal approved fireworks
Always read directions
Only use fireworks outdoors
Never use fireworks near dry grass or other flammable materials
Light one firework at a time
Have a bucket of water and a hose nearby
Fireworks Injury Prevention Tips:
Never place your body over a firework when lighting the fuse
Stand several feet away from a lit firework
Never point or throw fireworks at another person
Never attempt to re-light fireworks
Never carry fireworks in your pockets
Protect Your Pets:
While many people enjoy the loud booms and flashing lights of fireworks, it can be terrifying and overwhelming for animals. On the Fourth of July, many pets run when they hear the noises and get lost. There are a few things pet owners can do to help animals keep their cool:
Keep all pets away from fireworks
If possible, place them in a room with no windows and turn on a TV or music
Ask your veterinarian for medications or techniques to help ease your pet's fear
Know the signs of heat exhaustion & heat stroke in your pets
Make sure all pets have a collar and microchip
Resources:
State Fire Marshal: Fireworks Program, 4th of July Safety
Cal Fire: Ready for Wildfire Fireworks Safety
ASPCA: Pets & Fireworks Safety