In partnership with the California Governor's Office of Emergency Services (Cal OES), the Federal Emergency Management Agency (FEMA), the Small Business Administration (SBA), and other state partners, San Benito County is hosting a Disaster Recovery Centers (DRC) in the community of Hollister to assist those impacted by recent storms.
The DRC offers information on available resources to homeowners, renters, and business owners who sustained damage to their property from the February and March storms.
Those impacted are encouraged to file insurance claims for damage to their homes, personal property, businesses, and vehicles before applying for FEMA assistance.
When applying for disaster assistance, it's helpful to have the following information available:
Address of damaged primary residence
Insurance coverage information
Current telephone number and mailing address
Bank account information
Open through May 12, 2023
Address:
Strada Verde Innovation Center (Warehouse)
354 1st Street
Hollister, CA 95023
Hours of Operation: Monday through Saturday, 9 a.m. to 7 p.m., closed Sundays
Federal Agencies:
The Federal Emergency Management Agency (FEMA)
The Small Business Administration (SBA)
State Agencies:
Department of Motor Vehicles (DMV)
Employment Development Department (EDD)
California Department of Social Services (CDSS)
Franchise Tax Board (FTB)
California Department of Insurance (CDI)
Contractors State License Board (CSLB)
California Department of Tax & Fee Administration (CDTFA)
California Department of Public Health (CDPH) – Vital Records
California Department of Veterans Affairs (CalVet)
California Department of Housing and Community Development (HCD)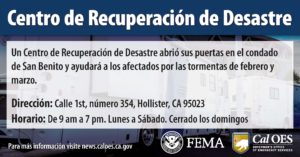 EN ESPAÑOL
En conjunto con la Oficina de Servicios de Emergencia del Gobernador (Cal OES, por sus siglas en inglés), la Agencia Federal para el Manejo de Emergencias (FEMA, por sus siglas en inglés), la Administración de Pequeños Negocios (SBA, por sus siglas en inglés) y otras agencias, el Condado de San Benito abre un Centro de Recuperación de Desastre (DCR, por sus siglas en inglés) en la comunidad de Hollister, para asistir a los afectados por las recientes tormentas.
Este DCR ofrece información sobre los recursos disponibles para propietarios, inquilinos y propietarios de negocios que sufrieron daños en su propiedad durante las tormentas registradas en febrero y marzo.
Todos los afectados pueden solicitar ayuda a través de sus seguros, para resolver los gastos que conllevará la reparación de los daños en sus propiedades, negocios y autos, antes de buscar la asistencia de FEMA.
Cuando solicite la ayuda para un desastre natural, será de gran ayuda el contar con la siguiente información:
Dirección de la residencia principal que resultó con daños
Información de cobertura de seguros
Número telefónico actual y dirección de correo
Información de su cuenta bancaria
Abierto hasta 12 de mayo de 2023:
Dirección:
Centro de Innovación Strada Verde (Warehouse)
354 1st Street
Hollister, CA 95023
Horario:
lunes a sábado, 9 a.m. – 7 p.m., cerrado a domingos