Wildfire season is here. In reality, it never truly disappears. Certainly not with the ever-changing landscape of climate-driven weather that continuously provides optimal extreme fire conditions.
In response, the California Governor's Office of Emergency Services (Cal OES), in conjunction with state, local and federal partners, is coordinating the deployment of mutual aid resources in support of ongoing statewide wildfires. The constant juggling is more piecing together an evolving puzzle of when and where to send resources and the potential reassignment of others.
The Cal OES Fire and Rescue Division coordinates the California Fire and Rescue Mutual Aid System, which moves local government resources across the state in support of all-risk emergency response on behalf of local, state, and federal government fire organizations. Cal OES assigns local government fire agencies with fire apparatus to maintain surge capacity during day-to-day duties and major events/emergencies.
As of August 25, there are 481 total mutual aid engines committed to fires statewide – the highest peak to date. Of those, 315 are local government engines and 166 directly from Cal OES. Nearly 2,200 firefighting personnel are deployed throughout the state.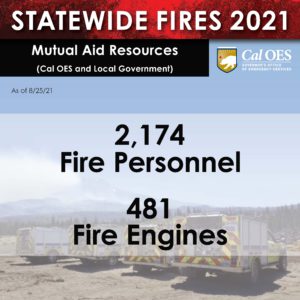 Currently, there are nearly a dozen major wildfires/complexes burning in California. The Dixie Fire is the state's largest active wildfire and the second largest in state history, burning more than 735,000 acres across Butte, Plumas, Lassen and Tehama counties.
To date, more than 1.6 million acres have burned in 2021, already ahead of last year's pace. Of the active wildfires, four have burned at least 119,000 acres each.
More than 14,000 personnel overall are currently deployed to the statewide wildfires, including out-of-state resources through the Emergency Management Assistance Compact (EMAC) from Utah, Louisiana, Wisconsin and Washington, as well as the West Virginia National Guard.
Cal OES also has prepositioned firefighting resources in three counties – Plumas, Nevada and Sierra – in advance of unsettled fire conditions.
Governor Gavin Newsom has secured federal assistance through FEMA to ensure the availability of vital resources to suppress ongoing wildfires. The Fire Management Assistance Grant (FMAG) also enables local, state and tribal agencies to apply for 75-percent reimbursement of eligible fire suppression costs.
FMAGs have been secured for the Lava Fire (Siskiyou County), Dixie Fire (Plumas and Lassen counties), River Fire (Nevada and Placer counties), Caldor Fire (El Dorado County), Monument Fire (Trinity County), and French Fire (Kern County).
On August 24, Governor Newsom announced that the White House approved California's request for a Presidential Major Disaster Declaration, including supports available to wildfire-impacted residents and assistance for state, tribal and local governments with ongoing emergency response and recovery costs.
State of emergencies have been proclaimed in counties impacted by the Caldor Fire, McFarland and Monument fires, Antelope and River fires, Dixie, Fly and Tamarack fires and the Lava Fire and Beckwourth Complex Fire, while Governor Newsom also signed an executive order to support impacted communities and bolster wildfire response and recovery efforts.