Last week the state-led, federally supported Community Vaccination Centers (CVCs) in Oakland and Los Angeles started giving second Pfizer COVID-19 vaccinations. The Pfizer vaccine is given in a series of two shots, and the CVCs have completed dispensing the first shots. The second shots are now available at Drive-thru, Walk-thru, and Mobile units. The numbers below tell the story of how the CVCs did over the past week.
How many have been vaccinated?
The CVCs, in operation for a month, are close to public transit and offer three ways to access vaccinations: Drive-thru, Walk-up, and Mobile units. Each site has three mobile vaccination centers. Below are the numbers of people vaccinated by each method at each center.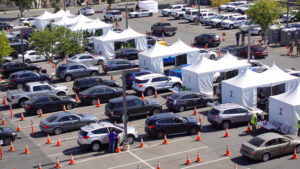 LOS ANGELES CVC, 5151 State University Dr., Los Angeles (Los Angeles County):

Drive-thru, 130,297; Walk-thru, 21,315; Mobile, 17,346
Total: 168,958 

OAKLAND CVC, 7000 Coliseum Way, Oakland (Alameda County):

Drive-thru, 139,412; Walk-thru, 18,905; Mobile, 18,820.
Total: 177,137

Total vaccinations for both centers: 346,095 (Numbers include first and second Pfizer shots and a limited number of Johnson & Johnson vaccinations.)
FAQs about COVID Shots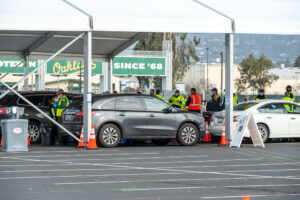 What if I can't make it to my appointment for the second shot?
You still need to get your second dose of the Pfizer vaccine. Until you do, you are NOT fully protected. If you are unsure of your appointment details, you can go to the email sent to you by My Turn and cancel, reschedule and check for second appointments. When you get your second shot, be sure to have your Vaccination Card detailing when you had your first shot. Until you are fully vaccinated, continue to wear a mask; stay at least 6 feet (about 2 arms' lengths) from others who don't live with you, and avoid crowds and poorly ventilated spaces.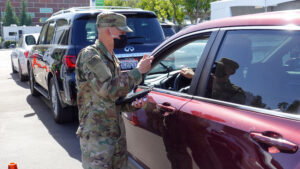 I've had my second shot. Now what?
Two weeks after your second shot (or two weeks after the single-dose Johnson & Johnson vaccine) you are considered fully vaccinated. Then you can gather indoors with fully vaccinated people without wearing a mask. But in public keep taking the precautions listed in the first answer above.
Why am I not fully vaccinated until two weeks after the second shot?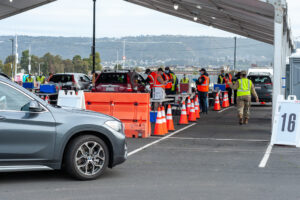 The vaccines teach our immune systems how to recognize and fight the virus that causes COVID-19. It typically takes two weeks for the body to complete building protection against the virus. A person could still get COVID-19 before or just after a vaccination and then get sick because the vaccine did not have enough time to provide protection.
Source: Centers for Disease Control and Prevention