In a continued effort to accelerate vaccinations statewide, the California Governor's Office of Emergency Services (Cal OES) and the Federal Emergency Management Agency (FEMA) today announced that more than a half million COVID-19 vaccines have been administered at Community Vaccination Centers (CVCs) and supporting Mobile Vaccination Clinics based at the RingCentral Coliseum in Oakland and Cal State LA campus.
As of March 28, the two sites have dispensed more than 546,000 doses of vaccine.
In mid-February, the Biden-Harris Administration approved a pilot project to establish the Oakland and Los Angeles sites with a capacity to administer approximately 6,000 vaccines a day at each site for eight weeks. The sites have outpaced that initial expectation and regularly administer more than 7,500 shots per day. Nearly 67 percent of vaccines were administered to targeted underserved communities and people of color.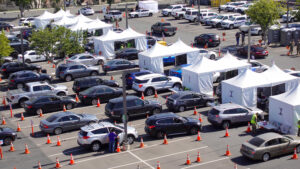 Last week, Cal OES and FEMA jointly announced the impending closures of the CVCs on April 11.To maximize the number of individuals served over the final two weeks of the mission, the Johnson & Johnson vaccine will be provided to new patients at the jointly operated CVCs beginning April 1.
The sites will continue to administer Pfizer second dose vaccinations to individuals who previously received their first dose at either the main CVCs or at the Mobile Vaccination Clinics until April 1. Johnson & Johnson is a single-dose vaccine as compared to the two doses required for the Pfizer and Moderna vaccines.
The state is expanding vaccine eligibility to more Californians with supply of vaccines expected to significantly increase in the coming weeks. Starting April 1, individuals aged 50+ will be eligible to make an appointment, and individuals 16+ will be eligible to make an appointment to be vaccinated starting on April 15.
Based on the current estimates, California expects to be allocated approximately 2.5 million first and second doses per week in the first half of April, and more than 3 million doses in the second half of April. California currently receives about 1.8 million doses per week. The state has the capacity to administer more than 3 million vaccines per week and is building the capacity to administer 4 million per week by the end of April.
Vaccine appointments at the two CVCs will be released daily beginning on April 1 and made available to eligible individuals through visiting the state's MyTurn website or by calling 833-422-4255.