The state-led federally-supported Community Vaccination Centers (CVCs) in Oakland and Los Angeles will be dispensing second Pfizer shots at Drive-thru, Walk-thru, and Mobile units for only the remainder of this week. A limited number of Johnson & Johnson single-dose shots are available, for those who have reservations, at certain mobile units this week and will become the primary method of vaccination at CVCs. That change will be reflected in the state's MyTurn scheduling system. The numbers below tell the story of how the CVCs did over the past week.
How many have been vaccinated?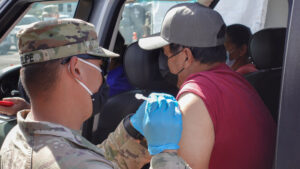 The CVCs, open since mid-February, are close to public transit and offer three ways to access vaccinations: Drive-thru, Walk-thru, and Mobile units. Each site has three mobile vaccination centers. Below are the numbers of people vaccinated by each method at each center.
LOS ANGELES CVC, 5151 State University Dr., Los Angeles (Los Angeles County):

Drive-thru, 165,193; Walk-thru, 25,267; Mobile, 24,436
Total: 214,896

OAKLAND CVC, 7000 Coliseum Way, Oakland (Alameda County):

Drive-thru, 177,186; Walk-thru, 23,393; Mobile, 26,607.
Total: 227,186

Total for both centers: 442,082. (Includes second Pfizer and a limited number of Johnson & Johnson shots.)
FAQs about COVID Shots
Where can I get a two-dose vaccination after the CVCs no longer provide them?
Hundreds of other sites are available. Alameda County residents can sign up at the Alameda County COVID website to be notified promptly when their appointment is secured. Los Angeles County residents can go to PublicHealth.lacounty.gov and access multiple dispensing sites. To find local appointments statewide, go to the state's webpage for localized COVID information: COVID19.ca.gov/get-local-information.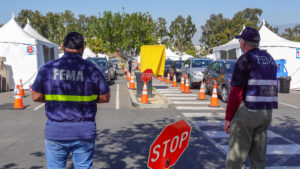 Will my completed Pfizer vaccine work against the new COVID-19 variants emerging in the U.S?
Yes. Current data suggest that all COVID-19 vaccines approved for use in the United States should work against these variants. For this reason, COVID-19 vaccines are an essential tool to protect people against new variants.
I have completed my vaccination. Do I need to keep my vaccination card?
Yes, your vaccination card tells you what COVID-19 vaccine you received, the date you received it, and where. You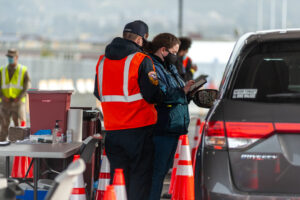 may need it for future reference or to show your vaccination status. No national organization maintains vaccination records. Some retailers are offering to laminate the cards at no cost. It's a good idea to make a copy. Do not post a photograph of your vaccination card on social media, to protect against fraud.
Source: Centers for Disease Control and Prevention
###