Cal OES Deploys Six Urban Search and Rescue Canine Search Teams
State Emergency Management and Mass Care Specialists Remain in Florida to Aid in Cleanup Efforts
SACRAMENTO – As Florida residents grapple with a rising death toll, and widespread destruction and flooding following Hurricane Ian, one of the most powerful storms to ever hit the United States, the California Governor's Office of Emergency Services (Cal OES) at the direction of Governor Gavin Newsom announced the deployment of six California-based Urban Search & Rescue (US&R) Canine Search Teams.
The teams are highly specialized search and rescue units from local government fire departments across California, whose members are trained and equipped for structural collapse search and rescue, and to perform specialized search functions in swift-water and flood environments.
These US&R Canine Search Teams (each comprised of a trained dog and a human handler) specialize in Human Remains Detection.
"California continues to actively work to support our colleagues in Florida," said Cal OES Director Mark Ghilarducci. "These search and rescue teams play an important role in helping the impacted communities recover."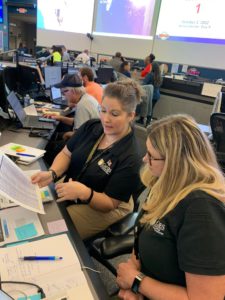 The US&R Canine Search Teams-Human Remains Detection being sent to Florida today are from the following local agencies: Los Angeles Fire Department, Los Angeles County Fire Department, Orange County Fire Authority, and Riverside Fire Department.
This recent announcement comes less than a week after Cal OES deployed a team of emergency management and mass care specialists to support in Hurricane Ian recovery efforts.
Responding to a request from the Florida Division of Emergency Management, Governor Newsom deployed a five-person team of mass care experts to facilitate shelters for those displaced by the hurricane as well as emergency operations center staff to support Florida's State Emergency Operations Center in Tallahassee. These emergency management specialists are assisting with logistics, ensuring resources, supplies, and donations reach those most in-need. With the scale of this disaster, they are also working with Florida officials on the expansion of the operations center.
Cal OES emergency management specialists are currently supporting Florida and operating as part of the Emergency Management Assistance Compact (EMAC).
Previously, Cal OES approved the deployment of local government firefighters to Florida as part of the Federal Emergency Management Agency's Urban Search and Rescue (US&R) Response System. Currently there are California US&R specialists and firefighters from the following local agencies on the ground in Florida actively working to save lives: Los Angeles County Fire Department, Orange County Fire Authority, Riverside Fire Department, Sacramento Metropolitan Fire Department, Sacramento County Fire Department, Chula Vista Fire Department and San Diego Fire Department.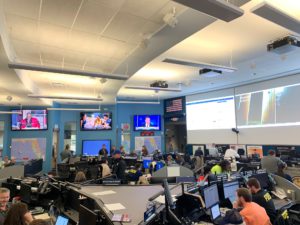 Hurricane Ian made landfall on Wednesday, September 28 as a Category 4 storm, decimating coastal towns and leaving rescue crews searching for survivors while communities face the daunting task of rebuilding. As the death toll continues to rise, more than 1,600 people have been rescued from Hurricane Ian's path in parts of southwest and central Florida since last week.