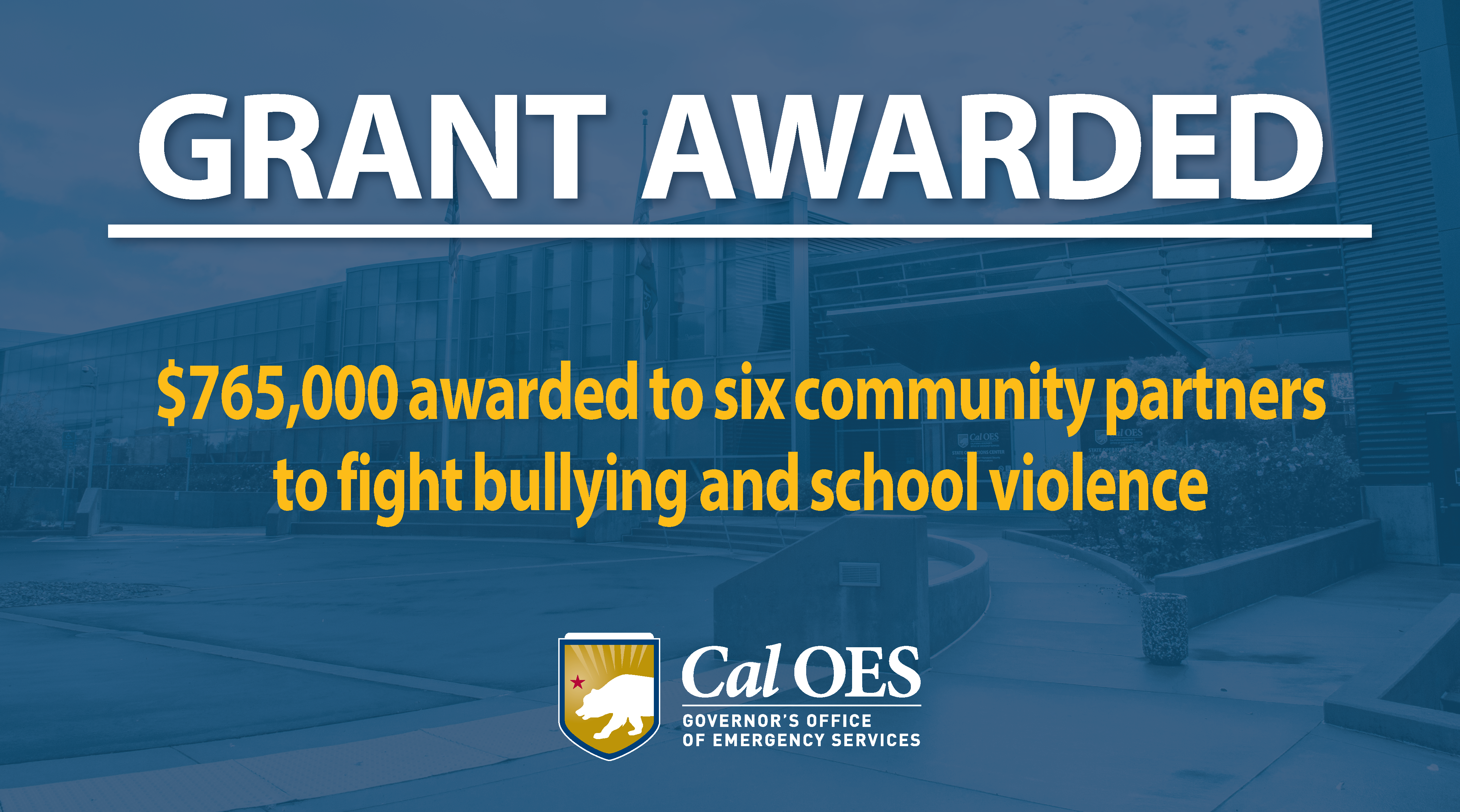 Working to support school-aged children with emotional support resources, the Governor's Office of Emergency Services (Cal OES) today announced $765,000 in funding to help address issues of violence and bullying in schools.
The funding will provide counseling, advocacy, and other support services to children and teenagers who have been victimized by bullying and/or school violence.
Administered by Cal OES, these federal grant funds from the Victims of Crime Act (VOCA) Victim Assistance Formula Grant Program, will help provide services for bullied youth throughout the state. Funds will also help develop and implement counseling services, advocacy and support services and assistance to victims with applying for compensation benefits through the California Victim Compensation Board.
"With this funding, we are taking a stand against harassment of our children and teens, while supporting them with the counseling and resources they need to thrive," said Mark Ghilarducci, Director of the Governor's Office of Emergency Services.
School-based bullying is a common form of violence in our society and a major public health issue. Bullying occurs when a child is exposed, repeatedly and over time, to negative actions by one or multiple other students. It takes many forms, including physical, emotional, verbal, sexual, racist, and cyber abuse.
"Through this funding, KFAM is able to raise awareness and provide much needed mental health services to Asian and Pacific Islander (API) children and youth in our community who are experiencing bullying in their schools," said Jennifer Oh, Deputy Director of Korean American Family Services. "Due to the rise of Asian hate crimes during this pandemic, KFAM has become keenly aware of increasing number of bullying incidents experienced by API students living in Greater Los Angeles area. This funding directly meets the need that our community is facing today."
Successful grant applicants were selected based on their proposed outreach strategies to support eligible crime victim assistance programs, demographic coverage and number of people they serve.
The breakdown below shows the distribution of funds awarded:
Entity
City/County
Subaward Amount
Community Violence Solutions
Antioch/Contra Costa County
$127,500
Imperial County Office of Education
El Centro/Imperial
$127,500
Korean American Family Services, Inc. (KFAM)
Los Angeles/Los Angeles County
$127,500
Neighborhood Healthcare
Escondido/San Diego County
$127,500
San Diego Youth Services
San Diego/San Diego County
$127,500
San Fernando Valley Community Mental Health Center, Inc.
Van Nuys/Los Angeles County
$127,500
TOTAL:
$765,000