The California Governor's Office of Emergency Services (Cal OES) teamed up with local, state and federal partners to emphasize the importance of earthquake preparedness through the annual Great ShakeOut Earthquake Drill. Millions of participants across the state practiced in the Drop, Cover, and Hold On technique on October 19, 2023 at 10:19 a.m., demonstrating the correct way to find a safe spot during an earthquake. 
Additionally, Cal OES hosted the Great California Shakeout Tour, traveling to seven locations around the golden state to educate people about earthquake preparedness and safety. This tour allowed participants to experience simulated shaking intensity akin to a magnitude 7.0 earthquake.  
Stops in Sacramento, San Francisco, Monterey, Santa Barbara, Los Angeles, Riverside and San Diego provided visitors with crucial earthquake preparedness information. 
California boasts the Earthquake Early Warning California system, utilizing technology like smartphone apps and Wireless Emergency Alerts (WEAs) to issue earthquake warnings as soon as ground motion is detected. 
As the country's first publicly available, statewide warning system, the Earthquake Early Warning system gives California residents crucial seconds to take cover before shaking. Managed by Cal OES, this technology utilizes ground motion sensors from across the state to detect earthquakes before humans can feel them and can notify Californians to "Drop, Cover and Hold On" in advance of an earthquake.  
If you live in or travel to areas that could be impacted by an earthquake, preparation is vital, as these events can strike suddenly, at any time, with little warning. Visit My Hazards to see if you live or work in an area prone to earthquakes.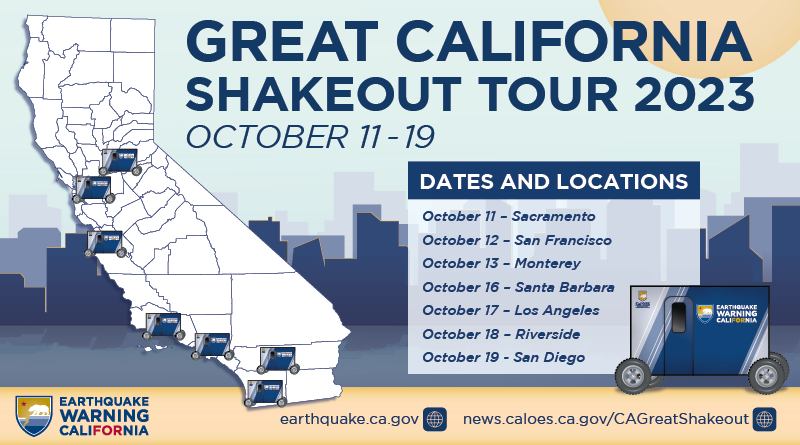 Chief Deputy Director of Operations at Cal OES, Tina Curry, emphasized California's leading role in disaster preparedness efforts and encouraged all residents to take action for their safety and that of their families during this year's Great ShakeOut.  
"For years we've been recognizing the Great ShakeOut day as that one time when everyone in California can take a moment to practice and remember to drop, cover and hold on. It's the most important thing that people can do to keep themselves safe," Curry said.  
Remember, when shaking starts, seconds matter. Follow these life-saving actions: 
Inside: Drop, Cover, and Hold On

 

In a car: Pull over, stop, set the parking brake.

 

In bed: Turn face down, cover your head with a pillow.

 

Outdoors: Stay away from buildings; do not go inside.