The California Governor's Office of Emergency Services (Cal OES) kicked off the month of May by marking a major milestone – finding dozens of wildfire survivors a place to live. Working closely with the Federal Emergency Management Agency (FEMA), the Cal OES Individual Assistance program was able to secure and place all eligible wildfire survivors from Butte and Siskiyou counties into direct housing
In the months following the historic wildfires that swept through California in 2020, FEMA approved a Direct Housing Program for wildfire survivors in Butte County (DR-4558) and Siskiyou County (DR-4569). Since then, Cal OES Individual Assistance has been working closely with FEMA Individual Assistance to address the housing needs of those survivors whose homes have been destroyed.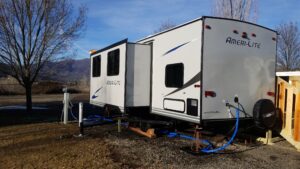 "Although it has been an incredibly challenging year especially for those who are still recovering from the aftermath of the devastating wildfires last year amid the ongoing pandemic, our focus to address the housing needs of survivors has always been one of our top priorities in this recovery mission," said Deputy Director Ryan Buras. "In addition to working with our federal and local partners, Cal OES is very proud of achieving this major milestone of placing all eligible wildfire survivors into direct housing."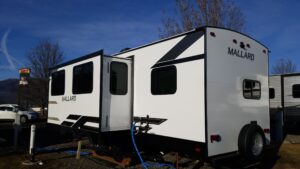 After signing the required paperwork, a total of 50 survivors for the two wildfire events were licensed in and able to take residence of their Manufactured Housing Unit (MHU) starting on January 7, 2021. Already, three survivors have found alternative housing solutions. On May 3, 2021, the final survivor was provided a private site with an MHU, which hasn't occurred since the 2017 wildfires.
Throughout the process, the Cal OES and FEMA Individual Assistance teams faced many obstacles, one of which included the limited housing options throughout California. But, with dedication and collaboration, the state and federal teams were able to ensure the success of this months-long mission.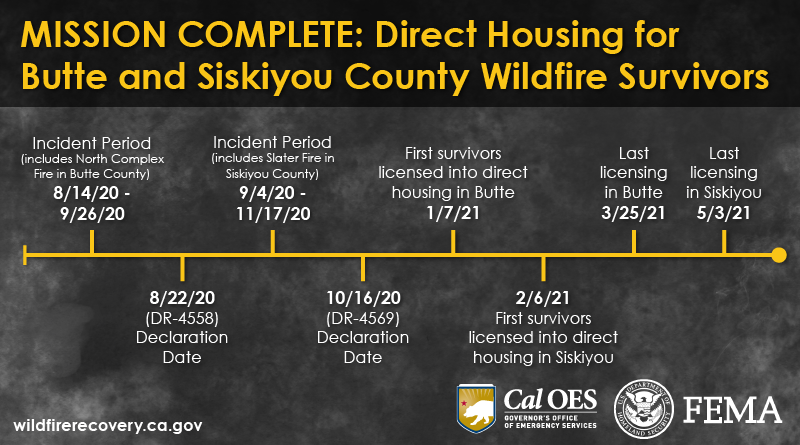 At-A-Glance: Cal OES Direct Housing Timeline for Butte and Siskiyou County 2020 Wildfire Survivors
In addition, Cal OES recently received an extension for the Direct Housing program in Butte County for the 110 Camp Fire survivors (DR-4407) who remain in direct housing. This program has been extended through September 12, 2021. As part of the extension, FEMA approved both the sales and donations programs for the survivors who wish to purchase their MHUs. The donations program will be implemented by Butte County in partnership with a non-profit organization after the sales have been executed under the sales program.
About the Direct Housing Program
The Direct Housing Program provides temporary housing in the form of recreational vehicles (RVs), Manufactured Housing Units (MHUs), and Multi-family Lease and Repair and Direct Lease.
Eligibility for direct housing is based on the extent of damage to the survivor's house, whether insurance to cover damages is available and other factors.
Installing each unit involves a site inspection, local permits as well as utility hookups. Since installations, like other construction projects, are subject to delays due to weather problems and coordination issues, the process can take time.
For those who are interested in learning more about the recovery process after a wildfire, please visit https://wildfirerecovery.caloes.ca.gov/.