$8.2 million is part of the Prepare California 'Jumpstart' Program investing in local infrastructure improvements
SACRAMENTO – Delivering on its commitment to build resilient communities in areas of the state most susceptible to disasters, the California Governor's Office of Emergency Services (Cal OES) today announced the second round of awardees for the first-in-the-nation Prepare California Program.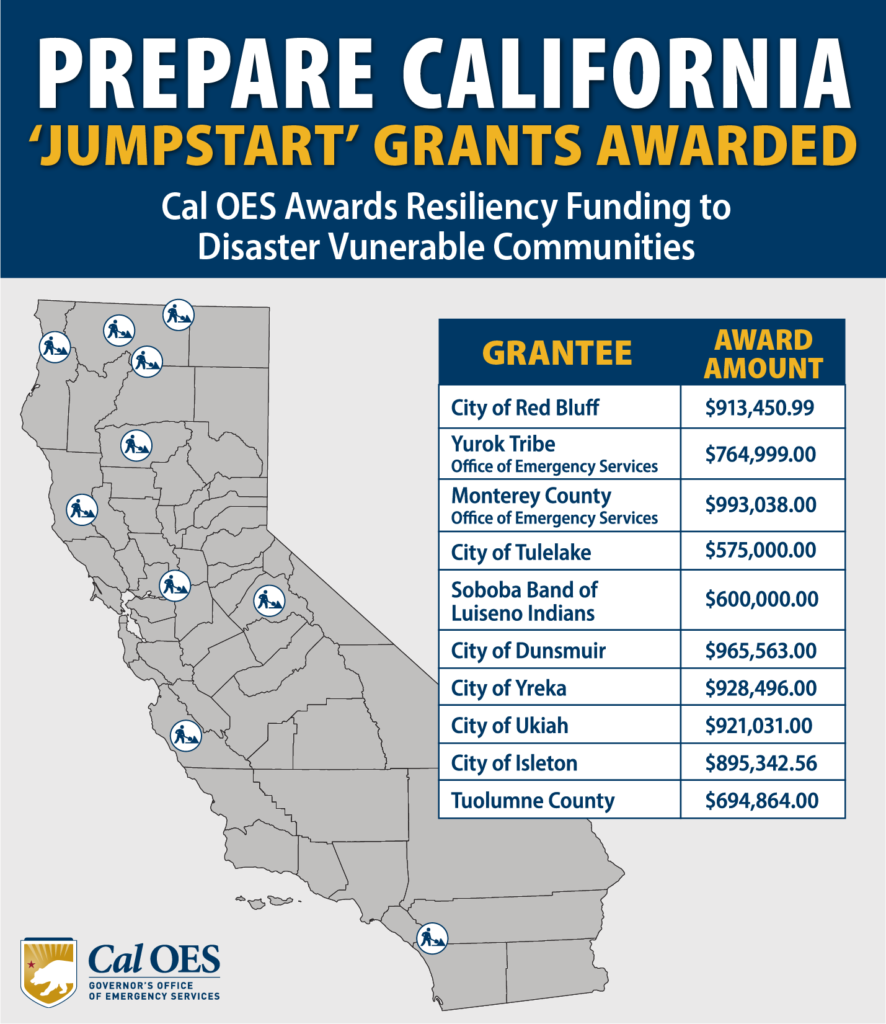 For this latest round of funding, Cal OES awarded more than $8.2 million to ten new applicants through the "Jumpstart" portion of the Prepare California Program. This is in addition to $4.5 million awarded last year. Cities, counties, non-profits and Tribal governments throughout the state use the funding to invest in infrastructure improvements designed to protect people and property.
"California is investing in the future resiliency of California communities through these grants," Cal OES Director Nancy Ward said. "This state funding is a way to cement our commitment to Californians before, during and after emergencies."
Recipients of this year's awards
City of Dunsmuir – Hire Resilience Coordinator to lead citywide updated and implementation of the Local Hazard Mitigation Plan, Community Wildfire Protection Plan and Safety Element.
City of Isleton – Hire Sustainability and Recovery Coordinator to lead the development and implementation of disaster mitigation strategies and apply for hazard mitigation grant funding.
City of Red Bluff – Hire Chief Resiliency Officer position to focus on hazard mitigation and emergency planning.
City of Tulelake – Hire Chief Resiliency Officer to assess emergency response capabilities and develop hazard mitigation projects.
City of Ukiah – Hire Chief Resiliency Officer to implement plans for community resilience and submit hazard mitigation grant sub-applications.
City of Yreka – Hire Chief Resiliency Officer focused on implementation of the Hazard Mitigation Plan and submission of grant sub-applications for hazard mitigation funding.
Tuolumne County – Hire Resilience Analyst to focus on hazard mitigation grant subapplications and long-range sustainability of the resilience program.
Monterey County Office of Emergency Services – Hire Chief Resiliency Officer and Community Resilience Coordinator to focus on actionable resilience activities including development of hazard mitigation sub-applications.
Yurok Tribe Office of Emergency Services – Hire Chief Resiliency Officer focusing on hazard mitigation planning, community outreach, departmental networking and development of hazard mitigation grant applications.
Soboba Band of Luiseno Indians – Hire a Disaster Services and Resiliency Manager to oversee mitigation, preparedness, response and recovery programs.
Launched in January 2022, this program leverages a total of $100 million budget-approved funds designed to unlock federal matching resources and aimed at reducing long-term risks of disasters, such as landslides, wildfires, earthquakes, flooding and dam failure in communities that are considered socially vulnerable and have a significant risk hazard.
The state identified these vulnerable communities by prioritizing California census tracts according to their estimated hazard exposures and social vulnerability.  Hazard exposure is based on the State Hazard Mitigation Plan, while social vulnerability is based on the CDC Social Vulnerability Index.
Additional information about Prepare California, including the application process, can be found at news.caloes.ca.gov/preparecalifornia