Funds Will Improve Hardscape Infrastructure and Build Resilience in Communities Across the State
SACRAMENTO – Working to reduce the long-term risks of natural disasters, the California Governor's Office of Emergency of Services (Cal OES) today announced it is applying for $250 million in federal funding to support local communities.
Leveraging federal funds through the Building Resilient Infrastructure and Communities (BRIC) program, Cal OES submitted 14 statewide projects totaling $350 million in project costs to help protect life and property from future disaster damage. Being able to cover more than 70 percent of the cost of these projects through federal funding will assist these communities in becoming stronger and safer.
"This is a historic shift from reactive disaster spending to actual proactive investment in community resilience," said Ryan Buras, Deputy Director of Recovery Operations at Cal OES. "These projects will help increase resilience and significantly reduce repetitive losses in communities across the state, some who have suffered over and over from the devastating effects of wildfires and other natural disasters."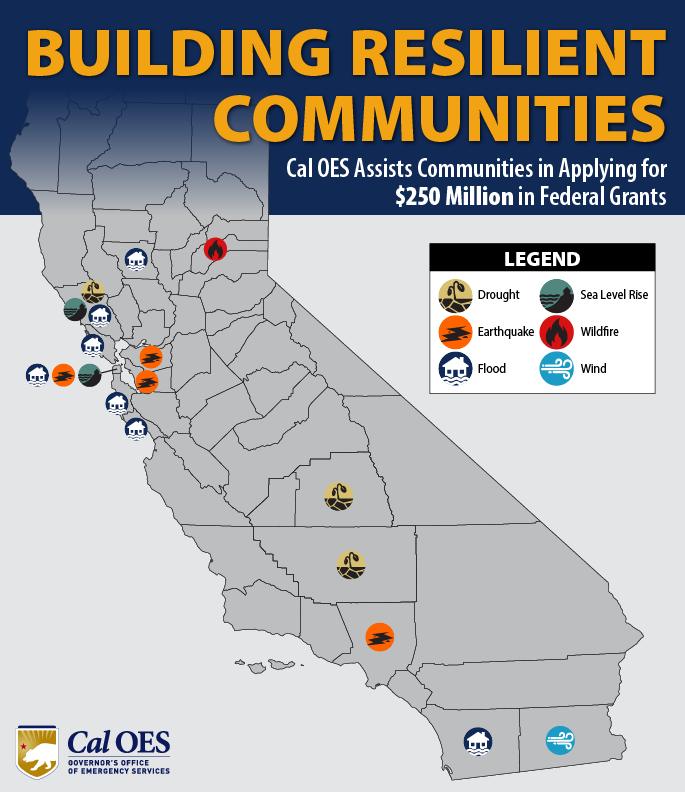 Examples of projects submitted to the federal government for potential funding include:
Marin County (Flood): Build new seawalls along three roadways to protect the communities adjacent to the Belvedere Lagoon.
Nevada County (Wildfire): Address wildfire risks in Grass Valley by creating defensible space around target neighborhoods and modifying potential fuels around critical infrastructure.
Orange County (Flood): Install an elevated berm and vegetated sand dunes to protect the Pacific Coast Highway and over a thousand feet of shoreline.
San Diego County (Flood): Construct a living levee along an existing trail to limit the potential for flooding in the Bayside community and create more usable recreation space.

San Francisco County (Flood, Sea Level Rise, Earthquake): 

Identify, evaluate, and explore the benefits of innovative 

natural and nature-based mitigation solutions. These include nearshore reefs, submerged aquatic vegetation, creek-to-Baylands reconnection, and tidal marshes.

Tulare County (Drought): Harvest floodwater in an excavated mining site to reuse as drinking water and crop irrigation. The project will also create a habitat for migratory birds and elevate groundwater levels to protect 12,000 homes from flooding in Visalia.
Related to this federal program, there is $1 billion in funding available for local communities, Tribal Governments and territories nationwide to fund infrastructure projects that aim to reduce risk from drought, wind, wildfire, earthquake, and sea level rise.
In an effort to notify, guide, and support potential applicants, Cal OES performed outreach to communities across the state, providing webinar training and direct technical assistance in the development of these projects.
Seeking this additional federal funding is part of Cal OES' continued work to build community resilience among vulnerable individuals living in the areas of the state most susceptible to natural disasters. Programs at Cal OES that aim to protect Californians most at risk of fires, floods, earthquakes, and other natural disasters include:
Prepare California ($100 million)

Listos California ($25 million)

Home Hardening ($25 million)
Cal OES submitted the below local projects for federal cost share funding:
To view an ADA compliant version of the data table, click here.
###